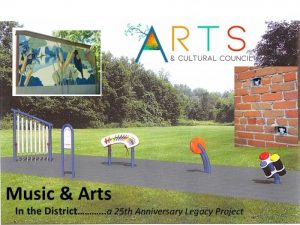 Greensburg, IN — Another local community is holding a placemaking campaign through Patronicity, The Arts & Cultural Council of Decatur County. The organization is planning to enhance the ARTisTREE District, which follows Main Street in Greensburg from West Street to Rebekah Park, with musical instruments in Rebekah Park for children of all abilities and add district street art to support the amphitheater throughout the district.
Rebekah Park is a walkable anchor of the ARTisTREE District and has received several new amenities, such as a new amphitheater that was completed in the spring of 2020. Their goal of $12,500 by November 25th is intended to help liven the space, keep the momentum going, and complement the new amphitheater with an attraction for kids. Larger-than-life music and art is expected to improve the Rebekah Park space for kids for years to come.
In addition to the exciting improvements at Rebekah Park, the project will add aspects of art, paying tribute to music, throughout the ARTisTREE District. Click here for a link to learn more and donate.