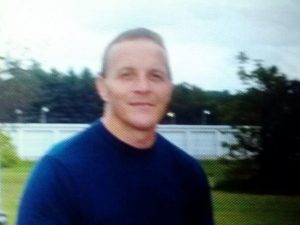 Brad R. Jarrett, age 54 of Harrison, Ohio passed away September 24, 2020 in Cincinnati, Ohio. Born October 27, 1965 in Hamilton, Ohio the son of Ray and Norma (Goff) Jarrett.
Brad a 1984 Northwest High School graduate worked for Time Warner Cable as a line technician for 28 years and served his country in the United States Army. Brad was a loving kind selfless father, friend and brother who would do anything for anyone. Never met a stranger, could turn a bad day into a good day by his constant jokes. He loved nothing more than spending time with his children Brandon and Brooklynn Jarrett. Brad lived his life to his fullest and is loved and will remain loved by many.
Brad is survived by his children Brandon and Brooklynn Jarrett. Brother of Donna (Larry) Bryant, Diane Jarrett, Lydia Jarrett, Margaret (Kurt) Mefford, Brenda (Ken) Carmen, Brian, Ray (Peggy), George Jarrett and Phillip Hasty. Also survived by the mother of his children Jackie Weiss, Jackie's mother Dixie Clark and sister Jessica (Robbie) Wentz.
Preceded in death by his parents Ray and Norma Jarrett and sister Debbie Jarrett.
Visitation will be held Saturday, October 3, 2020 from 10:00 A.M. until time of funeral services at 12:00 P.M. with Pastor Keith Harms officiating all at Jackman Hensley Funeral Home 215 Broadway Street Harrison, Ohio 45030. Burial will follow at Glen Haven Cemetery with military honors.
Memorials may be directed to the family c/o the funeral home.