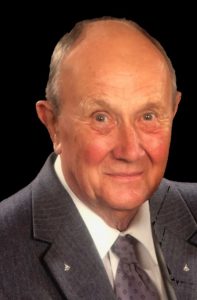 Norman Max Hoban, 91, of Greensburg, Indiana passed away Sunday, September 27, 2020 at the Aspen Place Health Campus. He was born July 29, 1929 in Shelby County, Indiana to parents, LeRoy and Mary Hoban, both deceased.
Norman married Nora C. (Tootie) Tucker on July 12, 1955. After retirement, they enjoyed many happy years driving the countryside and viewing many passing parades. She preceded him in death in 2009.
Graduating from Milroy High School in 1947, Norman went on to serve his country during the Korean War as a Private 1st Class in the Army. He spent 37 years of his working life at Bohn Aluminum, in the factory, retiring in 1992.
Norman was a member of the First Christian Church, Greensburg, Masonic Lodge, 69 years, and the Order of Easter Star, Lois Chapter. His passions in life were Tootie, morning coffee breaks with friends, antique tractors and traveling many miles to farm machinery shows.
Norman is survived by caregiver and nephew, Tim (Kathy) Kuhn, and several nieces and nephews. He was preceded in death by all of his siblings, Jerry Wayne Hoban, Martha Jane Kuhn, Joan Neff, half-sister, Laura Barker, and half-brothers, Randall and Marshal Hoban.
Services for Norman will take place at the Gilliland-Howe Funeral Home in Greensburg on Thursday, October 1, 2020 at 10:00 am with Rev. Ray Sweet officiating. Entombment will follow at the Van Pelt Cemetery. Visitation will be Wednesday, September 30, 2020 from 5:00 pm until 7:00 pm with a Masonic Service at 7:00 pm. Family has asked that all CDC guidelines of masks and social distancing be followed.
Memorial contributions can be sent to the First Christian Church in Greensburg. Online condolences can be made to the family at www.gilliland-howe.com