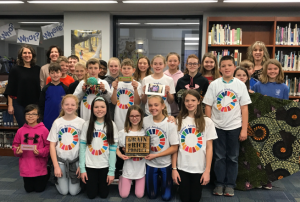 Batesville, IN – Batesville Intermediate School (BIS) has received national recognition for the Junior Ambassador program by earning the 2020 Sara Jaffarian School Library Program Award from the American Library Association (ALA). The $5,000 award recognizes excellence in humanities programming in libraries that serve grades K-8.
The program, led by media specialist/school librarian Anne Amrhein, served 24 students in the 2019-2020 school year. During meetings, students worked to create multimedia presentations, posters, and public service announcements based on the UN's Sustainable Development Goals, such as zero hunger and gender equality. The Junior Ambassadors then scheduled presentations with every classroom to engage and inform all 480 third-, fourth- and fifth-grade students. The program also featured weekly guest speakers ranging from local food pantry administrators, state hunger activists, and global partners working to improve the lives of those in Kenya and Haiti. The school partnered with Hillenbrand to secure funding for book club purchases.
Anne Amrhein will present a free one-hour webinar on the award-winning program at 12 pm on Thursday, November 5th. Registration for the webinar can be found on ALA's Programming Librarian website.