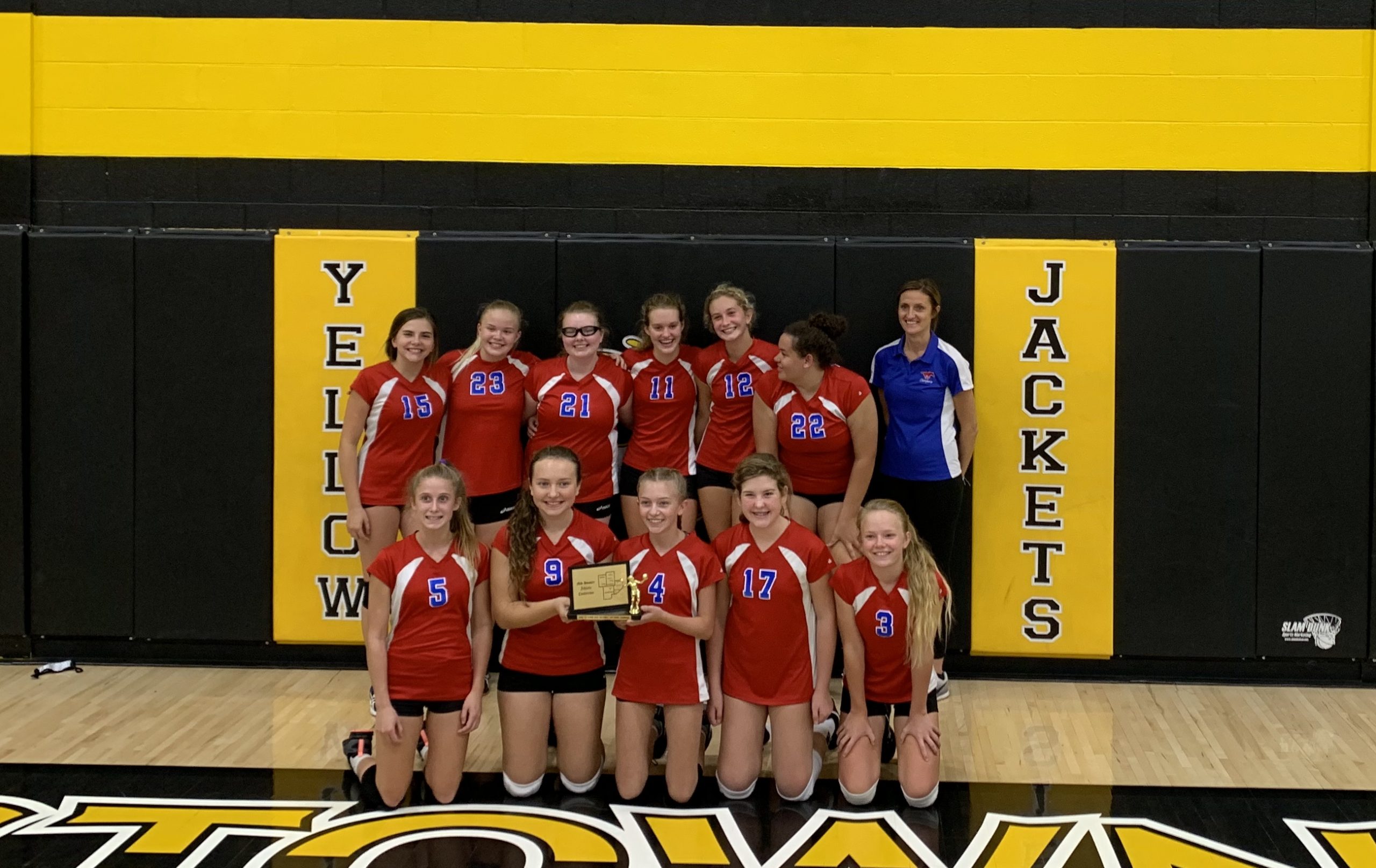 Bulldogs Boys Soccer Team Victorious Over Grizzly Cubs
The Batesville Boys soccer team faced off against Franklin Community winning 4-2.
The match played out close despite the Bulldogs outshooting their opponent. Franklin got the first goal of the game when a ball was sent across and shot from the 18. Batesville responded well minutes later when Ian Powers took a corner kick and Willy Sherwood headed it in near post. The first half ended 1-1. Batesville scored goal #2 when JJ Kuisel sent a diagonal ball across then Ian Powers dribbled the keeper into an open net. Franklin Community found an equalizer next off of a freekick which was fumbled in the box and sent into the net.
The Bulldogs remained focused and finished the game strong first with the 3rd goal on a through ball from Sebbie Trainor to Eli Pierson. The 4th and final goal another through ball was sent this time from Eli Pierson to JJ Kuisel, who played it through the keeper's legs. The final score was 4-2 and a big win for the Bulldogs.
Courtesy of Bulldogs Coach Kyle Hunteman.
The Batesville Bulldogs Boys' Junior Varsity Soccer team hosted Franklin Community losing 3-1.
The Bulldogs struggled to hold possession in the first half and Franklin Community capitalized on their opportunities. Batesville found themselves trailing 2-0 at the half following a penalty kick made by Franklin Community. After halftime, the JV team came out with a lot of energy and had many more opportunities offensively. Five minutes into the second half, the Bulldogs got within one goal after Grant Peters delivered a ball to Owen Powers who finished a shot just past the goalkeeper. The rest of the half was a hard-fought battle by both teams but Batesville couldn't quite score the equalizer. Franklin Community eventually scored with 45 seconds left in the match to win by a final score 3-1.
The Batesville Boys' JV soccer team now holds a record of 2-3-1 as they head into their final week of the season.
Courtesy of Bulldogs Coach Tyler Burcham.
EIAC Cross Country Meet At Batesville
The Batesville's XC team's morning didn't start out quite as early this morning as they stayed right here in Batesville. Yes, the Bulldogs got to host the conference meet this year.
The Girls started off the racing at 9:30 and had an incredible morning as they were crowned the Conference Champions beating the field by 41 points and all 7 varsity runners claiming spots in the top 15 to have the honor of being named to the All-Conference Team. Final results for the girls were Batesville: 26, East Central: 67, Greensburg: 72, South Dearborn: 109, Rushville: 110, Franklin County 148, Connersville, and Lawrenceburg were incomplete. Congratulations to Greensburg's Brenner Hanna with an amazing record time of 18:17.5 and named the MVP of the girls race and leading the way. Batesville's Ava Hanson was Conference Runner Up with a personal best time of 19:20, Also running a personal best and coming in 4th place was Maria Lopez (19:57) followed closely by teammates Sophie Myers (20:09) and Lily Pinckley (20:30) in 5th and 6th. Megan Allgeier and Madison Rahschulte had a photo finish for 9th and 10th place with only .2 seconds between them. (20:54.2 and 20:54.4). Also getting into the top 15 and making the All-Conference team was senior Trysta Vierling (21:32) in 14th. Way to go Ladies!
The Boys were needing some big-time performances from our 8-12 guys today as they were missing 4 from their top 7 and these boys stepped up and ran some incredible times. Two of the boys ran personal best of 36 seconds and 22 seconds! I was so proud of them all! Unfortunately, it wasn't quite enough to capture that Conference Title as the Rushville boys really ran awesome! Congratulations to the Rushville Lions for their Conference Championship with all of their top 5 placing in the top 15. Final team results for the boys were Rushville: 35, Batesville: 58, Connersville: 65, East Central: 86, Greensburg: 118, Franklin County: 143, Lawrenceburg 185, and South Dearborn incomplete. The Bulldogs, however, did take the Conference MVP spot as Ean Loichinger posted his 2nd fastest time of the season and led the way at 16:29. Benjamin Moster followed him and was named the Conference Runner Up at 16:38 (missing his PR by a second). Eli Loichinger was the other Bulldog on the boys team to make the All-Conference team as he finished in 12th place, also running his 2nd fastest time ever of 17:54. Kyler Daulton was the 4th Bulldog to cross the line and just missed out on All-Conference, placing 17th place, but running a 36 second PR (18:13) with Landon Gutzwiller following in 26th place and a 22 second PR at 18:40. Dillon Murray was 29th(18:49) and finishing out the top 7 was Luke Nuhring in 43rd (20:40).
Although they didn't score or have awards for the JV, Batesville took the top 4 spots on the girls side with Carley Pride leading the way at 23:06. Katie Olsen was 2nd, Sarah Ripperger 3rd, Jenn Dodge 4th, Ella Moster 6th (running a career PR by 41 seconds), and another photo finish at 9th and 10 were Jada Eisert and Hope Kroen. The boys had 1 JV runner today, Sean Callahan who came in 8th and ran a career PR, shaving 35 seconds off his time.
Way to go Bulldogs! Keep up the hard work!
Next week, Batesville Cross Country will be finishing off their regular season with two meets. First on Tuesday, Batesville will host again for their Batesville Invitational and then will travel to Greensburg for the Pirate's Invitational on Thursday. Good Luck Dogs!
Courtesy of Bulldogs Coach Lisa Gausman.
The Wildcat Girls Cross Country team placed 6th at the EIAC Conference.
Senior, Lauren Kelley, placed 7th with a time of 20:34. She tied her season PR, which she achieved at South Dearborn a week ago. However, she is still over a minute off of her career PR of 19:11, which she set her freshman year at semi-state. Sophomore, Kenzie Rogers, ran a career-best time of 26:11. She beat her previous best time by 16 seconds. She continues to get faster as the season progresses.
The girls will head back to Batesville on Tuesday for their invitational with a chance to run the course even faster.
The Wildcat Boys Cross Country team placed 6th at the EIAC conference.
Sophomore, Harmon Marshall, continues to lead the team with a top 20 finish. His time of 18:22 was only one second off of his best time and earned him 19th place. Junior, Ben Maze was only a second behind him, taking the 20th spot. Sophomore, Hunter Marshall, is so close to breaking into the 18s with his time of 19:05, a career personal best. Junior, Adam Grant, has started to perform closer to his potential, with a time of 19:08. He is still chasing a PR under 18:52. Junior, Eric Schwab, continues to improve and achieved another career-best with his time of 20:41.
The Wildcats are ready for another chance to run Batesville's course on Tuesday, September 26th.
Courtesy of Wildcats Coach Stacey Nobbe.
Lady Bulldogs Volleyball Results From Greenfield-Central Tourney
The Varsity team played Heritage Christian first and lost 25-14 and 25-6.
Next, the girls played Pike and won one set and lost the other two. The scores were 25-23, 27-25, and 15-10.
Later in the day, the girls played Edinburgh. The scores for the games were 25-19, 25-6. Batesville won both sets.
In the final game, Batesville took on Anderson and won in two sets. 25-15 and 25-20.
Courtesy of Bulldogs Coach Vickie Heil.
Lady Chargers Spikers Win 8th Grade MHC Tourney
The 8th Grade Lady Chargers beat Hauser in the semifinals of the MHC conference in two sets 25-3 & 25-14.
For the championship, the Lady Chargers beat Morristown in two sets 25-21 & 25-22.
The Lady Chargers ended the season 14-1, County Champs, and MHC Champs! Charger up!
Courtesy of Chargers Coach Becky Bingham.
Lady Pirates Soccer Fall to Lady Tigers
The Greensburg Lady Pirates Soccer started the morning out with Senior Katie Beam honoring her Influential Faculty Member at Greensburg Community High School. Katie honored Teacher and former soccer coach Mike Myers. She mentioned how Myers "made me a better person through soccer and in your classroom. You have made me learn that everything doesn't need to be perfect. You can mess up sometimes." Thank you, Mr. Myers, for being a mentor to our community.
The Greensburg Lady Pirates Soccer faced the Lawrenceburg Lady Tigers and fell 8-0.
Keeper Emillee Ernstes saw 32 shots on goal, two of which were penalty kicks. The only shot attempt the Pirates had in the game was from Emily Rosales.
This brings the lady pirates to 5-7 on the season and 1-4 in the conference. The Lady Pirates have three home games this week. The first is Tuesday at 5:30 against South Dearborn.
Courtesy of Pirates Coach Ryan Morlan.
Lady Trojan Spikers Runners-Up At Muncie Central
ECVB traveled to Muncie Central yesterday for a modified tournament. We defeated Muncie Central to open the day 2-1 and then Richmond in the second match 2-1. In the championship match, we fell to a tough Wapahani team 0-2.
We started slowly against Muncie Central. We didn't play bad, we just didn't play to our potential in the first set. They were able to push through and come back to win the next two.
ECVB vs Muncie Central 9-26-20

Richmond was a slight opposite- we started off pretty well and then fell off in set 2 after jumping out to a big lead. We gave up a lot of points in the middle of the set and couldn't come back. They pulled it back together in set three.
ECVB vs Richmond 9-26-20

Wapahani is a tough team. They are always very disciplined and this year's team was no different. They can make something out of nothing. In the first set, we just gave them too many free balls to smash it down on our side. In set two, we stayed with them a lot better and even forced a timeout when we took the lead mid-way through. Until about 20-18, we fought hard. After that, they outscored us 5-1 to finish the match.
ECVB vs Wapahani 9-26-20

Varsity is now 13-7. Next-go back to Rushville to finish our match that got postponed back in August.
Courtesy of Trojans Coach Cassie Laker.
EIAC Tennis Results @ Greensburg
NUMBER 1 SINGLES:
JACK STIRN DEF. LLEYTON RATCLIFFE 6-2, 6-4
(FRANKLIN COUNTY) (BATESVILLE)
MATT ANISLEY DEF. MASON EARLS 6-0, 6-1
(LAWRENCEBURG) (SOUTH DEARBORN)
JAKE CARROLL DEF. CLAYTON ELLIS 6-1, 6-0
(RUSHVILLE) (EAST CENTRAL)
JONAH GRAHAM DEF. BRETT STRINGER 6-2, 6-4
(CONNERSVILLE) (GREENSBURG)
JACK STIRN DEF. MATT ANISLEY 6-0, 6-1
(FRANKLIN COUNTY) (LAWRENCEBURG)
JONAH GRAHAM DEF. JAKE CARROLL 6-2, 6-2
(CONNERSVILLE) (RUSHVILLE)
CHAMPIONSHIP
JACK STIRN DEF. JONAH GRAHAM 6-2, 6-1
(FRANKLIN COUNTY) (CONNERSVILLE)
JACK STIRN CONFERENCE MVP-ALL-CONFERENCE
JONAH GRAHAM ALL-CONFERENCE
NUMBER 2 SINGLES:
MARLIN HERSHBERGER DEF. MAX DANIELS 6-0, 6-0
(RUSHVILLE) (EAST CENTRAL)
CAEL RAHE DEF. SETH SPUROCK 6-1, 6-0
(BATESVILLE) (CONNERSVILLE)
BRANT ERTEL DEF. CHRISTIAN SULLIVAN 6-0, 6-1
(FRANKLIN COUNTY) (SOUTH DEARBORN)
ISAAC TEBBE DEF. JACK POWELL 6-0, 6-0
(GREENSBURG) (LAWRENCEBURG)
MARLIN HERSHBERGER DEF. CAEL RAHE 6-3, 6-2
(RUSHVILLE) (BATESVILLE)
BRANT ERTEL DEF. ISAAC TEBBE 6-4, 6-4
(FRANKLIN COUNTY) (GREENSBURG)
CHAMPIONSHIP
MARLIN HERSHBERGER DEF. BRANT ERTEL 6-1, 6-1
(RUSHVILLE) (FRANKLIN COUNTY)
MARLIN HERSHBERGER ALL-CONFERENCE
NUMBER 3 SINGLES:
SAM SMITH DEF. BYE
(RUSHVILLE)
HAIDEN ROWLETT IAN MAXWELL 6-3, 6-3
(LAWRENCEBURG) (EAST CENTRAL)
CHANLER FOX DEF. NICK WENDELL 6-0, 6-0
(CONNERSVILLE) (FRANKLIN COUNTY)
JAYDON SMITH DEF. CARSON SCHEIDLER 1-6, 6-2, 1-0(8)
(BATESVILLE) (GREENSBURG)
SAM SMITH DEF. HAIDEN ROWLETT 6-0, 6-0
(RUSHVILLE) (LAWRENCEBURG)
CHANLER FOX DEF. JAYDON SMITH 6-2, 6-2
(CONNERSVILLE) (BATESVILLE)
CHAMPIONSHIP
SAM SMITH DEF. CHANLER FOX 6-2, 6-2
(RUSHVILLE) (CONNERSVILLE)
SAM SMITH ALL-CONFERENCE
NUMBER 1 DOUBLES:
MAX GIESTING DEF. COLTON PLYMALE 6-2, 6-2
SAM VOEGELE CHUBBA KARIDER
(BATESVILLE) (EAST CENTRAL)
CAMERON JACKMAN DEF. TYLER SLOAN 6-1, 6-0
JENSEN SMITH GRANT MCLANE
(RUSHVILLE) (SOUTH DEARBORN)
WILL WADE DEF. CONNOR BELCAMY 6-3, 6-2
LONNIE SCHWARTZ PADDRICK LIBBERT
(FRANKLIN COUNTY) (LAWRENCEBURG)
GAGE BROWN DEF. SAM BOWER 6-2, 6-2
DUSTIN MCCARRELL ABE TEBBE
(CONNERSVILLE) (GREENSBURG)
MAX GIESTING DEF. CAMERON JACKMAN 6-2, 6-2
SAM VOEGELE JENSEN SMITH
(BATESVILLE) (RUSHVILLE)
GAGE BROWN DEF. WILL WADE 6-2, 6-4
DUSTIN MCCARRELL LONNIE SCHWARTZ
(CONNERSVILLE) (FRANKLIN COUNTY)
CHAMPIONSHIP:
MAX GIESTING DEF. GAGE BROWN 6-3, 6-4
SAM VOEGELE DUSTIN MCCARRELL
(BATESVILLE) (CONNERSVILLE)
MAX GIESTING ALL-CONFERENCE
SAM VOEGELE
NUMBER 2 DOUBLES:
ALEX WAINWRIGHT DEF. LUKE BROWN 6-1, 6-0
TREVOR HUNTER LANE CUTTER
(RUSHVILLE) (SOUTH DEARBORN)
JACKSON TRACY DEF. HARRY HANNEKEN 6-0, 6-0
HANK RITER JON HILDEBRAND
(BATESVILLE) (LAWRENCEBURG)
SABISTIAN BURCH DEF. LANDON WUESTEFELD 6-2, 6-4
LOGEN SHIPLEY TRAVIS SCHWARTZ
(CONNERSVILLE) (FRANKLIN COUNTY)
BRYCE STRINGER DEF. MATTHEW GRAFF 6-0, 6-2
GARRETT DOMINGO MAX KOEHLER
(GREENSBURG) (EAST CENTRAL)
JACKSON TRACY DEF. ALEX WAINWRIGHT 6-0, 6-0
HANK RITTER TREVOR HUNTER
(BATESVILLE) (RUSHVILLE)
BRYCE STRINGER DEF. SABISTIAN BURCH 7-6(3), 6-2
GARRETT DOMINGO LOGAN SHIPLEY
(GREENSBURG) (CONNERSVILLE)
CHAMPIONSHIP:
JACKSON TRACY DEF. BRYCE STRINGER 6-3, 6-3
HANK RITTER GARRETT DOMINGO
(BATESVILLE) (GREENSBURG)
JACKSON TRACY ALL-CONFERENCE
HANK RITTER
CONFERENCE STANDINGS (REGULAR SEASON)
GREENSBURG 7-0
BATESVILLE 5-2
CONNERSVILLE 5-2
FRANKLIN COUNTY 5-2
RUSHVILLE 3-4
EAST CENTRAL 2-5
LAWRENCEBURG 1-6
SOUTH DEARBORN 0-7