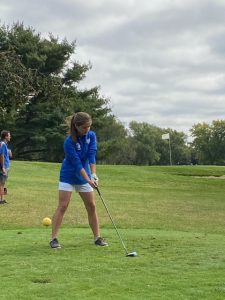 Congratulations to Batesville Lady Bulldog Golfer Emma Weiler on qualifying for the State Finals in Girls Golf. Emma placed 3rd amongst all golfers at The Regionals at Indy Lapel on Saturday, September 26th. The Lady Bulldog sophomore standout follows up a State Finals appearance as a freshman last year.
Noblesville won the team crown with Hamilton Southeastern placing 2nd and Greenfield-Central finishing 3rd to advance to the State Finals.
Locally, Batesville was 7th, Greensburg 16th, and East Central 18th.
2020-21 Lapel Regional

Westfield won the Roncalli Regionals with Carmel and Center Grove qualifying to the State Finals with 2nd and 3rd place finishes respectively.
Locally, Madison was 13th and Lawrenceburg 17th.
2020-21 Roncalli Regional

The Girls Golf State Finals will be taking place Friday and Saturday, October 2nd and 3rd, at The Prairie View Golf Club in Carmel. Best of luck to Emma!