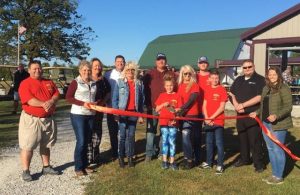 Milan, IN — The Ripley County Chamber of Commerce held a ribbon-cutting ceremony for Kelly's Hidden Acres Golf Course on September 18th. Friends and family gathered at the location in Milan to celebrate the occasion.
Owners Chris and Tara Kelly opened the golf course earlier in 2020 and have since made numerous renovations and improvements to the facilities. These include tearing down buildings, building a new tiki bar, and renovating the restaurant, among other things.
The evening started off with Kent Lockwood providing music and was followed by Jessie Strassell and band. Complimentary food was served with a free-will donation that will be presented to the Milan Food Bank for Thanksgiving and Christmas dinners.