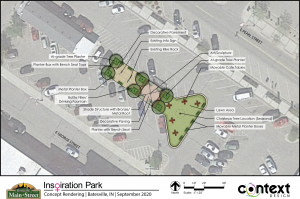 Batesville, IN — Batesville residents will soon have new places to safely gather and honor the legacy of women in the community thanks to the recently launched crowdfunding campaign.
The campaign, led by Batesville Main Street, is sponsored by the Indiana Housing and Community Development Authority (IHCDA) and offered through the crowdfunding platform developed by Patronicity.
The organization is working on the development of two separate gathering spaces in the downtown Batesville district, Inspiration Park and Collaboration Corner.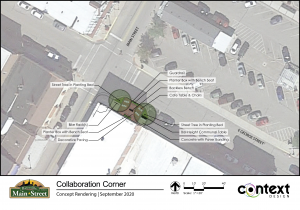 Inspiration Park will be located at what is currently known as "The Bike Park," in the parking area adjacent to George Street. The organization plans to enhance the outdoor seating area, add privacy and shade, and feature an illuminated art sculpture. This space will honor women whose visions and tireless efforts created organizations that continue to have an impact on the community today. The ladies that will initially be honored include Margaret Hillenbrand, Mary H. Mitchell, Jane Yorn, Jolene Rockwood, and Roberta Cook.
The George Street gathering place, named Collaboration Corner, will be located just off Main Street on the southeast side of George Street. It will have benches, trees, and provide ADA compliant space for all to be able to enjoy.
Click here for a link to donate or you can mail a check directly to P.O. Box 260, Batesville Main Street, Batesville, IN, 47006.