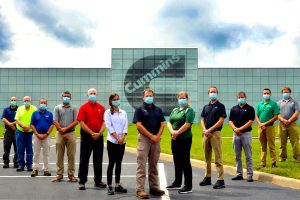 Statewide – The Governor's Awards for Environmental Excellence were presented to six recipients who were honored for extraordinary initiatives in protecting the environment.
A Southeastern Indiana company received the Five Year Continuous Improvement award:
Cummins Inc. Engine Plant, Columbus, Bartholomew County, for "Environmental Management System Projects." At its Columbus engine plant, Cummins has implemented five environmentally beneficial projects as part of its environmental management system (EMS). Their EMS projects include: an LED lighting upgrade in 2017, manufacturing controls project from 2017-2019, test cell process improvement projects from 2016-2019, zero waste to landfill initiative from 2017-2018, and community recycles day held annually since 2010.
Some of the highlights from Cummins EMS projects include test cell process improvements which resulted in water usage reductions of 3.4 million gallons per year. The LED lighting upgrade resulted in a reduction in electricity usage of 82,247-kilowatt-hours per month. As part of their Zero Waste to landfill initiative, Cummins diverted 136,820 pounds of waste per year from the landfill. Their Community Recycling Day, which is open to all Columbus residents, has diverted another 740,000 pounds of material from the landfill from 2015-2019.
Other awards went to Vuteq Indiana, Princeton, Gibson County, for "Energy Reduction Grid Tied Solar Energy System; Indiana University, Bloomington, Monroe County, for "Education for Environmental Change"; City of Richmond Parks & Recreation Department, Richmond, Wayne County, for "Richmond Greenhouse Restoration Initiative"; Elkhart County Soil & Water Conservation District, Elkhart, Elkhart County, for "Stormwater Alliance Program (SWAMP)"; and Midwest Dairy Recycling, North Manchester, Wabash County, for "Dairy Recycling Program".