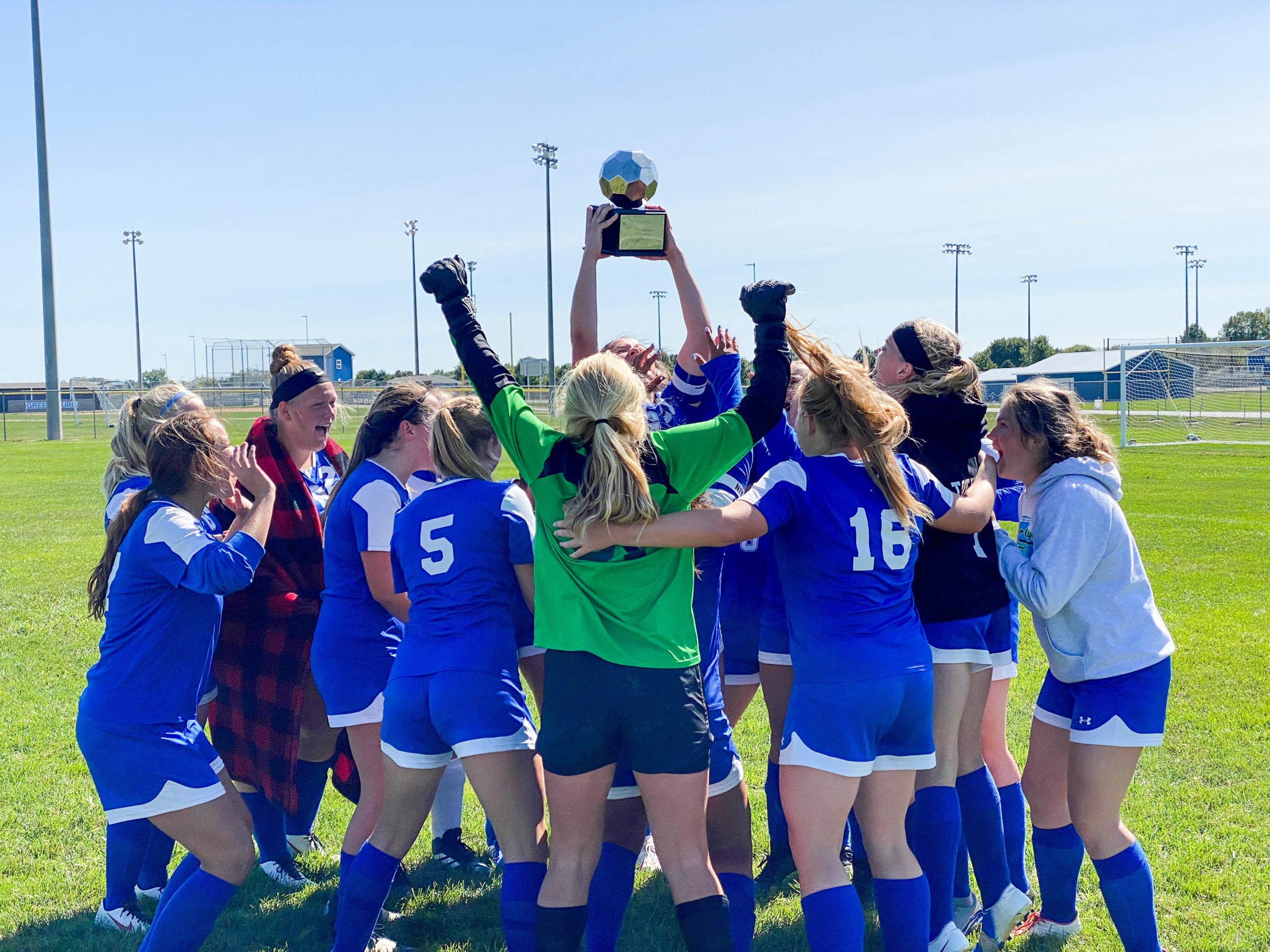 Saturday Football
South Decatur victorious over Edinburgh 41-15.
Connersville winning against Rushville 48-14.
Bulldog Harriers Participate At Riverview Health Invitational In Carmel
It was another early morning for the Bulldogs as the bus pulled out of the school parking lot at 6:30 this morning. There were still so many stars out making for a perfect morning for racing. Upon arriving in Carmel, the sun was shining and the air was brisk, just the right atmosphere for race time at 9 am.
Batesville competed in the very challenging Riverview Health XC Invitational. From last year's meet, the Bulldogs earned a spot in the "championship" race for this year. This was definitely an elite meet as both the girls and the boys had over 10 teams in their race ranked in the top 25 of the state. Both the teams found themselves competing well with these top teams and landed themselves in an amazing 9th place finish overall (both).
Team results were as follows:
Girls. Carmel-57, Hamilton Southeastern-76, Zionsville-171, Noblesville-174, Franklin Community-193, Westfield-216, Center Grove-216, North Central-226, Batesville-284, Park Tutor-288, Cathedral-292, Avon-295, Fishers-309, Delta-310
Guerin Catholic-324, Norwell-338, Brebeuf-342, Roncalli-505.
Boys. Carmel-58, Noblesville-67, Hamilton South Eastern-74, Brebeuf-87, Center Grove-115, Westfield-159, North Central-177, Guerin Catholic-195, Batesville-293
Zionsville-308, Pendleton Heights-332, Fishers-333, Lebanon-363, Franklin Community-392.
For Batesville, the girls were led by Ava Hanson in 41st place at 19:43. She was followed closely by teammate Sophie Myers, 45th with a 19:52…a big PR and first time ever running under 20 minutes! Maria Lopez was 3rd for the team at 61st (20:16), Megan Allgeier right behind her in 71st (20:28), also with a huge PR. Lily Pinckley came in next in 82nd (20:38). Finishing out the top 7 were Madison Rahschulte 99th (20:51) and Trysta Vierling 106th (21:27).
The boys were led by Ean Loichinger who placed an impressive 30th at 16:21. Benjamin Moster crossed the finish line shortly after him with a personal best of 16:37 and placing 41st. Adam Hollowell was the 3rd Bulldog in, finally breaking into the 16's at 16:57 and running a personal best placing him at 63rd overall. Daren Smith and Eli Loichinger finished in a strong 97th and 101st at 17:44 and 17:49…this was also an awesome PR for Eli dropping his time into the 17's. Finishing out the top 7 and competing to the finish line were Will Nuhring and Nathan Villani at 118 and 119. Also running a personal best for the day was Kyler Daulton, dropping another 7 seconds from his time.
It was a great day! Way to go Dogs!!!
The Bulldogs now get another week to prepare for a meet a lot closer to home…the conference. Batesville will be hosting this meet next Saturday morning! I know the kids (and coaches) are looking forward to sleeping in a little bit longer. Way to go Dogs and let's keep it going!
Courtesy of Bulldogs Coach Lisa Gausman.
Wildcat Netters Tame Lions
Franklin County Boys Varsity Tennis beat Rushville 3-2.
#1 Singles Jack Stirn 6-1, 6-0 vs. Jake Carroll.
#2 Singles Nick Wendel 0-6, 0-6 vs. Merlin Hershberger.
#3 Singles loss by default.
#1 Doubles Lonnie Schwartz & Will Wade 4-6, 6-1, 6-2 vs. Cameron Jackman & Jensen Smith.
#2 Doubles Landen Wuestefeld & Travis Schwartz 6-4, 6-4 vs. Alex Wainwright & Trevor Hunter.
Courtesy of Wildcats Coach Dylan Little.
Bulldogs Soccer Team Wins Against Warriors
The Batesville Boys Soccer team traveled to Whiteland to battle the Warriors and won 2-1.
The Bulldogs were determined to come away on top and that showed from warmups on into the beginning match. Batesville applied high pressure and put the Whiteland warriors on the defense. Within the first half, we outshot our opponent and eventually found the net. At 25:12 Eli Pierson made a run down the side and crossed it into JJ Kuisel for a one-touch finish.
The second half started and then minutes into the game a corner kick was taken by Ian Powers, bounced around the box, and finished by Willy Sherwood. 14:50 left in the game Whitetland answered back with a goal which started from the center of the 18′.
The final score 2-1 win for Batesville.
Courtesy of Bulldogs Coach Kyle Hunteman.
Bulldogs JV Falls Short Against Warriors
The Batesville Bulldogs Boys' Junior Varsity Soccer team traveled to Whiteland. The JV team came up just short after an exciting match that ended at 2-1.
Batesville had some attacks early from Noah Pierson and the offense that looked promising, but couldn't get many shots on goal. During that time, Whiteland took advantage of some mistakes by the Batesville defense and created a 2-0 lead. Sebbie Trainor provided a spark off the bench for the JV team and created many scoring opportunities. The lone goal was off of a Trainor shot that was deflected off of a Whiteland defender right to Owen Powers' feet. Powers took advantage of the opportunity by finishing his shot in the back of the net. The game came down to the final seconds as Trainor gave the Bulldogs one last shot as time expired, missing just wide.
JV continues to fight and improve as the season goes and looks to continue that as they head into their last few matchups of the year. The JV team is now 2-2-1 on the season.
Courtesy of Bulldogs Coach Tyler Burcham.
Lady Pirates Keep The 'Battle Of The Ball'
The Greensburg Lady Pirates Soccer started the morning out with Senior Emily Rosales honoring her Influential Faculty Member at Greensburg Community High School. Emily honored Coach and Teacher David Jackson. Mr. Jackson teaches Rosales's advanced PE class. She mentioned how Jackson "made me realize that I am stronger than I think I am" and how "it's always a good day to get better". Rosales went on to say "he made me a better person in school, in the weight room, and even here at the soccer fields". Thank you Mr. Jackson for being a mentor to our community.
After the ceremony, the "Battle of the Ball" between the Greensburg Lady Pirates and Rushville Lions would begin. This is a conference game that has only found the Lions the winner one time in the six-year life of the trophy, but the trophy has been on display at Rushville since last season and the Pirates were looking to return it to Greensburg.
The Lady Pirates took the words of encouragement from Rosales's experiences with Mr. Jackson and brought home a hard-fought win against the Rushville Lions. With the final score 4-3, the Pirates and Lions saw two 40 minute halves followed by two, seven-minute periods of overtime and finally settling on penalty kicks to find the winner.
The Lions struck first and fast. Within the first minute of play, the lady Pirates found themselves down by two. It took the Pirates the majority of the first half to tie the game. #5 Sophomore Macey Smith and #1 Junior Kayla Haycock both found goals in the first half to tie the game at the half at 2-2.
It was late in the second half with less than three minutes of regulation play when Rushville found their third goal off an error by the Pirates. This did not deter the Pirates. They answered back with a fast one minute charge on goal with #11 Sophomore Natalie Kalinowski tying the score.
With the score showing a tie at 3 at the end of the second half, the Pirates and Lions were going into two, seven-minute periods to find a winner. It was a hard-fought 14 minutes but still, no winner prevailed. So the game moved on to Penalty Kicks (PKs).
Keeper #51/12 Sophomore Emilee Ernstes, who has already saved 22 shots for settling on the scoreboard, was set to defend the next five PKs. Greensburg selected #3 Senior Emily Rosales, #16 Junior Mykenzi Morlan, #5 Sophomore Macey Smith, #4 Sophmore Natalie Kalinowski, and #21 Senior Hilary Ernstes to take the shots. Emilee Ernstes stopped the first four PKs from settling and that was enough. Morlan and Kalinowski were able to make their shots and that was a win for the Pirates.
This brings the Lady Pirates to 5-5 on the season and 1-2 in their conference. The Pirates are home again on Thursday, September 24 at 5 pm when they meet Franklin County.
Courtesy of Pirates Coach Ryan Morlan.
Lady Bulldogs Volleyball Team Battles At Franklin Tourney
The Batesville Varsity Volleyball team went 2 and 2 in the Franklin High School tournament this weekend.
They are currently 11-6 for the season. Their next game is Thursday at South Dearborn.
Courtesy of Bulldogs Coach Vickie Heil.
Wildcat Girls & Boys Varsity Cross Country Teams each Finish 7th Place At South Dearborn High School Invite
Every Single Member of the Girls Wildcat cross country team earned a season or career personal best at the South Dearborn Invitational.
Senior, Lauren Kelley, ran a solid race and crossed the line in 4th place. Her time of 20:34 was a season PR, and she is getting closer to her career PR, which she set her freshman year. Senior, Josie Selm, finished with a season PR of 24:35. Sophomore, Kenzie Rogers, had a season PR of 26:39 and is only 12 seconds away from a career PR. Freshman, Moorea Nobbe, ran her best race yet, with a time of 29:17. She shaved over 2 and a half minutes off of her previous PR. And, Sophomore, Kayla Baker, also had a great race. Her time of 30:05 is almost 4 minutes faster than her first race of the season.
If the Wildcat girls continue to reduce their 5K times, they will look good for the sectional tournament.
Sophomore, Harmon Marshall, ran an impressive race at the South Dearborn Invitational. While Franklin County's number one and number two runners were not able to compete on Saturday, Harmon stepped up his racing strategy and finished with the fastest time the team has seen all season. He crossed the line in 14th place with a time of 18:21. At this rate, he may drop his time into the seventeens by the end of the season.
Another surprise in the race was junior, Adam Grant's performance. Normally the 5th fastest runner for Franklin County, he was the 2nd Franklin County runner to cross the line in 25th place with a season best time of 19 minutes even. He is only 8 seconds from his career PR. Sophomore, Hunter Marshall, had a career PR with his time of 19:06. And, junior, Eric Schwab, ran his best race ever with his time of 20:42.
When the whole team is able to compete, the Wildcats will be performing stronger than ever.
Team Results. Rushville 28, East Central 52, Simon Kenton 55, Scott County 119, Taylor 121, Franklin County 122.
Courtesy of Wildcats Coach Stacey Nobbe.
Bulldog Middle School CC Results From Brown County
The Batesville Middle School boys finished 4th at the Brown County Invitational on Saturday. Jake Chapman finished 2nd in the boy's race followed by Cannon Clark, 21st, Isaac Trossman, 30th, Ethan Lacey, 39th, Griffin Koester, 59th, Talan Rowlett, 73rd, and Landon Raver, 77th.
The Batesville Middle School girls finished 9th at the Brown County Invitational. Kaylynn Bedel finished 4th in the girl's race, followed by Paige Allgeier, 36th, Caitlyn Fox, 57th, Charlotte Trossman, 73rd, Belle Young, 90th, Hailey Pierson, 96th, and Candace Shane, 100th.
Courtesy of Bulldogs Coach Derek Suits.
Lady Chargers Spikers Top Lady Cougars In Civil War Battle
The North Decatur Varsity (25-21, 25-16, 25-15) and Jr. Varsity (25-24, 25-20) teams beat South Decatur on Saturday, September 19th.
Varsity Stats / Offense leaders: So. Caroline Stapp 11 kills, So. Madelyn Bohman 10 kills; So. Sami Luttel 34 assists. Stapp led serving with 5 aces. Defense leaders: Stapp 10 digs, Bohman 9 digs, Sr. Haley Gorrell 8 digs; Sr. Jenna Geis 2 double blocks. Serve receive: Stapp 13 passes, Sr. Anna Burkhart and Jr. Lainey Crites with 9 passes.
The Chargers next game is home against Milan on Monday, September 21st.
Courtesy of Chargers Coach Ashley Gauck.
North Decatur Girls Cross Country Finishes 2nd Place And Boys 5th At MHC Meet
The North Decatur Lady Chargers competed Saturday in the Mid Hoosier Conference Cross Country Meet placing 2nd. The ladies had a great day and ran with poise and toughness both individually and collectively as a team. Earning All Conference honors were Jenna Walton and Addie Gauck. Congratulations to both these ladies.
ND Runner, Time, Place-Jenna Walton 22:44 4th; Addie Gauck 24:40 10th; Paige Reisman 25:34 12th; Gracie Osting 26:20 16th; Ellie Cox 26:57 20th; Lauren Holloway 27:23 24th; Hannah Allen 30:48 29th; Paige Wesseler 31:02 30th.
Team Scores. Waldron 41, North Decatur 63, Southwestern 63, Hauser 106, Morristown, and Edinburgh Inc.
The North Decatur Chargers competed Saturday in the Mid Hoosier Conference Cross Country Meet placing 5th. The boys had a great day and ran with poise and toughness both individually and collectively as a team. Earning All Conference honors was Charlie Kramer.
Chargers Name, Time, Place-Charlie Kramer 19:45 PR 8th; Lance Nobbe 20:54 19th; Caleb Bowles 20:55 20th; Brandan Gearhart 20:56 21st; Adam Mack 21:11 23rd; Jack Cathey 22:18 29th; Ryan Hancock 22:50 30th; Ethan Neimeyer 22:53 PR; Cameron Medsker 24:23; Chris Gauck 25:16.
Team Scores-Hauser 39, Southwestern 62, South Decatur 79, Waldron 82, North Decatur 87, Edinburgh 160, Morristown Inc.
Courtesy of Chargers Coach Kyle Nobbe.
Bulldog Tennis Results From Whiteland Tourney
Batesville finished 1-2 at the Whiteland Invitational on Saturday. They defeated Jennings County 4-1 and had losses to Shelbyville (2-3) and Whiteland (1-4). Lleyton Ratcliffe, Jackson Tracy, and Hank Ritter all picked up 2 wins on the day for Bateville.
Courtesy of Bulldogs Coach Mike McKinney.