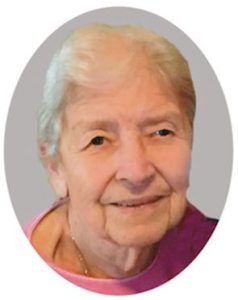 Pat Chaffee, age 85 of Morris, died Monday, September 21, 2020 at her home. Born October 1, 1934 in Ripley County Indiana, she is the daughter of Leora (Nee: Bartling) and Harry Volz. She married Dick Chaffee November 27, 1958 at St. Anthony's Church in Morris and he preceded her in death April 2, 2015.
Pat served several years as Postmaster at the Morris Post Office, but for most of her life she was a homemaker, raising five boys and looking after Dick. She was also very devout, her prayer book well worn. She was a longtime member of a Morris quilting club, usually had the Reds ballgame going on the radio and volunteered her time helping at the church bingo for many years. According to the boys, Pat was an exceptional baker and while it was all good, her coffee cakes and rolls will surely be missed.
She is survived by sons and daughter-in-laws Kevin and Pam Chaffee of Batesville, Tim and Gerilyn Chaffee of St. Leon, Indiana, Kyle and Connie Chaffee of Batesville, Lindy Chaffee of Indianapolis; daughter-in-law Diane Chaffee of Morris; eight grandchildren and one great grandchild. In addition to her husband and parents, she is also preceded in death by her son Jeff Chaffee and sisters Virginia Niehaus and Doris Huber.
Visitation is Thursday, September 24th, from 9 – 11 a.m. at the Weigel Funeral Home. Funeral services will follow at 11:30 a.m. at St. Anthony's Church with Rev. Stan Pondo officiating and burial will be in the church cemetery. The current Governor's mandate requires all attendees wear a facemask and observe physical distancing. The mask must cover the individual's nose and mouth at all times. The family requests memorials to the St. Anthony Cemetery Fund.