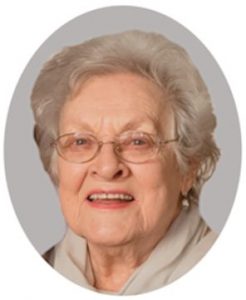 Margaret (Weigel) Strange passed away peacefully on September 21, 2020 at home surrounded by her family. Margaret, 89, was the beloved wife of John Strange Sr. for 68 years.
She was born in Batesville on Valentine's Day, February 14, 1931, and grew up on Walnut Street, daughter of FH (Frosty) and Margaret Weigel. She is survived by her brother Jerry Weigel and preceded in death by siblings Fr. Jovian (Carl) Weigel, Mary Louden and Rita Moorman. She graduated from the Immaculate Conception Academy (Oldenburg Academy) and earned her nursing degree in 1951 from St. Vincent's Nursing School in Indianapolis.
While in nursing school, Margaret met John and they were married November 15, 1952. They continued to live and work in Indianapolis for several years and returned to Batesville in 1954.
First and foremost, Margaret loved her family. In addition to raising her family, she worked periodically as a nurse at Margaret Mary Hospital and as an emergency medical technician for the local fire department. When on call, she would sleep with her boots on so she was ready to go. Throughout her life, she loved to take care of people.
Margaret was a devout Catholic. Over the years she was active in St. Louis Parish in Batesville and St. John's Parish in Enochsburg.
She is survived by her husband John and her children: Larry (Dagney Faulk); Mary Robertson (Mike); Kathy Cooley (Ted); Susan Glaser (Thomas); Rita Wilder (Mark); Julia Strange (Chris Sugar) and John Jr. (Meredith Rumble). She is also survived by 22 grandchildren and 11 great grandchildren.
Visitation is Friday, September 25th, from 10 a.m. until 12:00 p.m. at St. Louis Church. Funeral services follow at Noon with Rev. Stan Pondo officiating and burial will be in the church cemetery. The current Governor's mandate requires physical distancing and recommends masks be worn in church. The family requests memorials to Oldenburg Academy. A scholarship will be established for a student interested in pursuing a career in nursing, Margaret's beloved profession. For online condolences go to www.weigelfh.com.