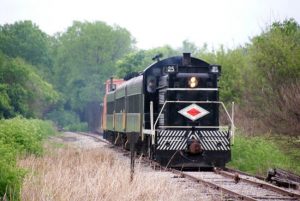 Connersville, IN — The Whitewater Valley Railroad has announced that tickets are now available for their 20th Annual Easter Bunny Express Family Event. Originally, the event was scheduled for April 11th but was postponed due to COVID-19. A new date of this Saturday, September 26th, has been selected for this annual family event.
Trains will depart from Connersville's Grand Central Station and make four round trips south to the Easter Bunny Patch two miles away. If you attend, bring a basket, as there are over a total of 12,000 eggs to hunt. You can also see the Easter Bunny and hunt for his Golden Egg. The egg hunt is open to ages 9 and under.
Reservations are recommended. Prices are $10 per person for anyone ages 2 and up. The train departs at 10:01 am, 12:30 pm, 2:30 pm, and 4:30 pm. Trains will operate rain or shine and tickets are limited. Tickets can be purchased by calling the Whitewater Valley Railroad at 765-825-2054 or by visiting www.whitewatervalleyrr.org.