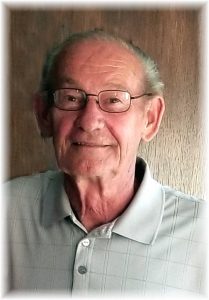 George Earl Hart, age 75 of New Point, Indiana passed away at his home on Sunday, September 20, 2020.  The son of Marshall and Edith (nee: Cook) Hart was born on August 20, 1945 in Salt Creek Township in Decatur County, Indiana.
George proudly served the US Army during Vietnam, completing two tours of duty.  He was a member of the Lifeline Wesleyan Church in Greensburg, the Prell-Brand American Legion Post #271 and the Batesville Masonic Lodge #668 F&AM. After 29 years, George retired as a manager from Batesville Tool & Die in August 2012.
George loved the outdoors whether it was fishing, hunting or gardening. Wood working was another hobby of his. Of course setting up the big Christmas display at the house, each year was another favorite tradition he liked to do. Most of all he just enjoyed the time he spent with his family and friends.
He will be dearly missed by his wife, Phyllis K. Hart; children, Jennifer Brown (Quentin) of Rushville, IN, Brian Roush (Marissa) of Cleveland, OH, and Charles 'Chic' Royer (Neysa) of Greensburg, IN; grandchildren, Jessica, Jacob, Jordan, Nathanial, Jayde and Morgan; two great grandchildren, Kash & Paisley; ex-wife, Valerie Tellas Ball; along with brother John Hart of Trafalgar, IN and sisters, Ida Harrell of Kokomo, IN, Viola Minning of New Point, IN and Betty Lemmons of Greensburg, IN.
In addition to his parents, he was preceded in death by his son Jason Hart, and sister, Mary Hart.
Visitation will be Wednesday, September 23, 2020 from 3-6pm with 6:00pm funeral services all at Lifeline Wesleyan Church, 2002 Moscow Rd., Greensburg, IN 47240. Military honors will follow by the Ripley County VFW Post #3183 and Prell-Bland American Legion Post #271. Pastor Doug Preston officiating.  Masonic services will start at 2:30pm. Burial will be at Rossburg Cemetery in New Point, IN at a later date.
Memorials may be given to the Lifeline Wesleyan Church c/o the funeral home by bringing to the service or mailing to, Meyers Funeral Home, P.O. Box 202, Batesville, IN 47006.
In accordance with the Indiana COVID-19 precautions, all attending are encouraged to wear a mask and follow proper social distancing protocol. If you are not feeling well, or if you have compromised immune system, you are encouraged to stay home.
You are welcomed to leave a message at www.meyersfuneralhomes.com on George's obituary page for the family at guestbook.