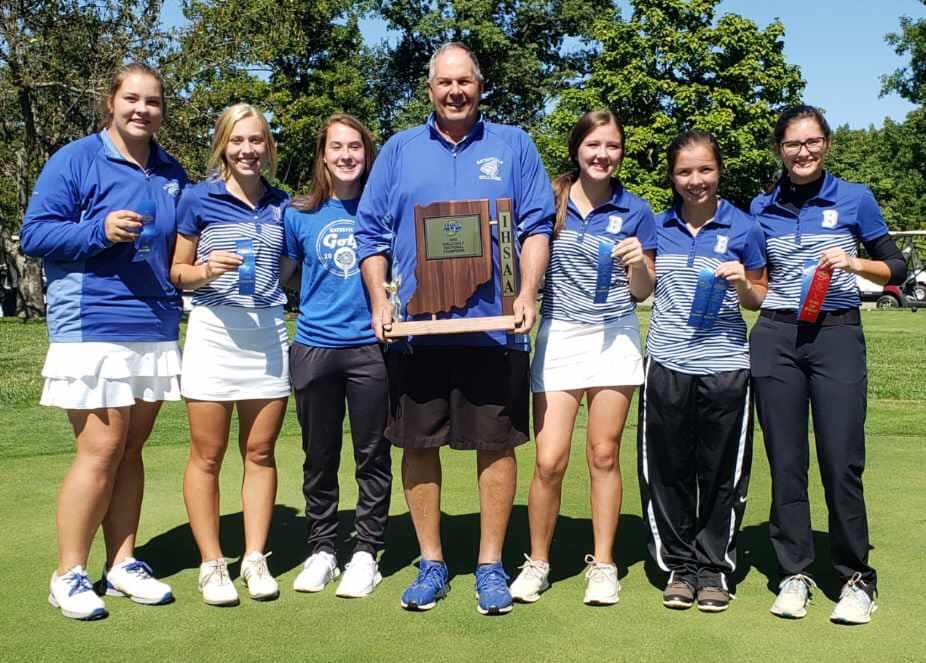 The Batesville Lady Bulldogs Golf team has captured the Sectional Crown at The Greensburg Country Club. The host Lady Pirates finish second and The East Central Lady Trojans finish third to qualify for The Regionals.
Emma Weiler from The Lady Bulldogs was the Individual Champion. Fellow teammate Josie Meyer was second and Megan Reisman from Greensburg was third. Emerald Simmons from The Oldenburg Lady Twisters qualifies individually to The Regionals.
2020-21 Greensburg Sectional

Rushville was 4th followed by North Decatur, Milan, Jac-Cen-Del, and Oldenburg.
The Richmond Lady Red Devils were the team Sectional Champions at The Liberty Country Club in Liberty. The Franklin County Lady Wildcats finish second and The Hagerstown Lady Tigers placed third to advance to The Regionals.
Esther Etherington of The Lady Red Devils was the Individual Champion. Camryn Brewer, Gracie Graf, and Nicole Mears from The Lady Wildcats were second and tied for third respectively.
2020-21 Union County Sectional

Northeastern was fourth followed by Connersville, The host Lady Patriots, New Castle, Centerville, and Cambridge City Lincoln.
The host Madison Lady Cubs won the Sectionals at the The Sunrise Golf Course in Madison. The Lawrenceburg Lady Tigers were second followed by Scottsburg Warriorettes third to qualify for The Regionals.
Keara Eder from The Lady Cubs was the Individual Winner.
2020-21 Madison Sectional

Jennings County was fourth followed by Southwestern, Henryville, Switzerland County, Shawe Memorial, and South Dearborn.
The best of luck to our area golf teams and individuals at the Regionals at Lapel and Roncalli on Saturday, September 26th.