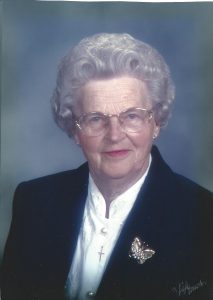 Lavonne B. Huber, of Sunman, was born on February 8, 1926 in Batesville, a daughter to Vernon and Edna Richter Gunter.  She married Wilbur Huber on December 14, 1946 at St. Jacob's Church and together they raised three children.  Lavonne was a member of St. Jacob's Church and enjoyed cooking, sewing and birds.  She loved her flowers and enjoyed tending to the many varieties in her yard.  On Friday, September 18, 2020 at the age of 94, Lavonne passed away at Margaret Mary Health in Batesville.
Those surviving who will cherish Lavonne's memory include her son, Glenn (Shirley) Huber, daughters, Janice (Roosevelt) Ratliff and Julene (Harold) Hornberger, all of Sunman; 6 grandchildren, Randy Ratliff, Sandra Laudick, Lori Meyer, Cindy Billman, Lisa Wolf and Bryan Huber; 16 great-grandchildren; 3 sisters-in-law and many nieces and nephews.  Besides her parents, she was preceded in death by her husband, and two grandsons, Steve Ratliff and Tommy Hornberger.
Friends may visit with the family on Tuesday, September 22, 2020 from 10 a.m. until 12 p.m. at Cook Rosenberger Funeral Home, 107 Vine Street, Sunman.  Pastor Mark Jellison will officiate the service at 12 noon at the funeral home and burial will follow in St. Jacob's Cemetery.
Due to the COVID-19 precautions and state mandates, all attending will be asked to follow proper social distancing protocol, including wearing a mask. If you are not feeling well, or if you have compromised immune system, you are encouraged to stay home.
Memorial contributions can be directed to St. Jacob's Church or to the Sunman Life Squad.  To sign the online guestbook or to leave personal memories please visit www.cookrosenberger.com.  The staff of Cook Rosenberger Funeral Home is honored to care for the family of Lavonne Huber.