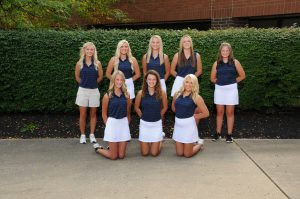 Franklin County High School Boys Varsity Tennis beat South Dearborn High School 5-0.
#1 Singles Jack Stirn 6-0, 6-0 vs. Preston Sullivan.
#2 Singles Brant Ertel 6-1, 6-0 vs. Mason Earls.
#3 Singles Nick Wendel 5-7, 6-1, 1-0 (10-8).
#1 Doubles Lonnie Schwartz & Will Wade 6-0, 6-0 vs. Tyler Sloan & Grant McLane.
#2 Doubles Landen Wuestefeld & Travis Schwartz 6-1, 6-0 vs. Luke Brown & Lane Cutter.
Courtesy of Wildcats Coach Dylan Little.
Franklin County Girls Varsity Cross Country finishes 3rd place at Union County.
The Franklin County Girls were not able to place as a team at the Union County Invitational. Josie Selm was the top finisher for Franklin County. Her time of 26:40 was only able to earn her 26th place. Sophomore and Newcomer to cross country, Kayla Baker, was able to run a personal best. Her time of 31:45 is her best time of the season.
Team Scores. Richmond 25, Union County 30, FC 113.
Franklin County Boys Varsity Cross Country finishes 3rd place at Union County High School. The Boys Varsity Cross Country team gave a strong performance at the Union County Invitational, placing 3rd. Only 4 points separated 1st place from 3rd place.
Junior, Ben Maze, was the top finisher for Franklin County. He placed 5th, and was just edged out of 4th place by Seton Catholic's Jack Martin. His time of 18:36 was just 3 seconds off of his career personal best. Sophomore, Harmon Marshall, crossed the line in 8th place. He ran a career best time of 19:02. Sophomore, Hunter Marshall, just missed a personal best by 2 seconds. Both Harmon and Hunter are approaching times under 19 minutes. Junior, Eric Schwab, gave his best performance of the season. His time of 21:03 was just 4 seconds from his career personal best, which was set his freshman year.
Courtesy of Wildcats Coach Stacey Nobbe.
The 7th grade BMS volleyball team defeated crosstown rival, St. Louis in an exciting 3 set match. Scores were 25-10, 24-25, 15-8.
After a solid first set, the Lady Dogs made some costly errors at the net to force a game 3. The team bounced back to pull off the victory behind Grace Walter's 9 consecutive service points, which included 4 aces. Walter had 16 points Including 9 aces for the match. Ava Walsman paced the team with 18 service points and 6 aces overall, including 14 straight in set 1. Anya Richey closed out set 1 with 2 awesome service points to spark the team. Walter led the offensive attack with 6 kills, with Addison Luers and Jade Martin chipping in with 3 kills and 1 kill respectively. The team's record improves to 6-3 on the season. Keep up the great teamwork, ladies!
Courtesy of Bulldogs Coach Shelly Prickel.
The 8th grade BMS volleyball team defeated St. Louis 25-9, 25-10.
Leading the team in serves was Sarah Bedel with 12 points, including 6 aces. Annie Negovetich had 6 points with 1 ace. Ana Powner contributed 5 points with 3 aces. Sophie Gesell and Aly Peters each had 4 points. Eva Struewing chipped in 3 points with 1 ace. From the front row Lydia Haskamp and Eva Struewing each had 2 kills. Annie Negovetch, Sophie Gesell, and Sarah Bedel each had a kill. The team had solid passing from Annie Negovetich, Addison Westrick, Ava Williamson, Kate Bauer, Ayanna Watson, and Molly Meer. The Bulldogs are now 7-2.
Courtesy of Bulldogs Coach Angie Ehrman.
The St. Louis Lady Cardinals hosted their last home game of the season against the Batesville Lady Bulldogs. We celebrated our one 8th grader Lucy Abplanalp and shared some love with the 8th graders of BMS also.
The 7th-Grade game went into 3 sets giving the Dogs a run for their money. While the Cardinals fell short we ended with scores of 25-10, 23-25, and 15-8. Scoring points for SLS were Ava Hollins and Ella King with 6pts each, Bridget Lohmueller with 5pts 1 ace, Campbell Miles with 5pts, and Mimi Smith with 1pt 1 ace. These ladies communicated well and defensively found ways to back up one another and make the plays. I couldn't be more proud of how they played and what they brought to these games last night.
The 8th-Grade Lady Cardinals lost in 2 sets last night. Falling with scores of 25-9 and 25-10. While Batesville brought a tall line up ready to swing it was their serving that threw us off. We went through spurts of serve receive issues, but never once gave up. Scoring for SLS were Bridget Lohmueller with 1pt, Lucy Abplanalp with 2pts, Cora Roth with 1pt, and Meg Ritter with 1 pt. Nice job ladies way to stick with it and give it your all.
Courtesy of Cardinals Coach Erin Trenkamp.
North Decatur Girls 8th Grade Volleyball beat Jac-Cen-Del High School 25-21, 25-17. The 8th grade Lady Chargers improve to 9-1.
Courtesy of Chargers Coach Becky Bingham.
All three Batesville teams played East Central Tuesday evening at Batesville. The freshman team split wins. East Central won 16-25 in the first set and Batesville won with a score of 25-13 in the second set. Kaylin Hinners was the lead server going 13 for 13. Isabelle Wonnell led in serve-receive as well as kills having three on the night. Kaylie Raver led the team in assists with 6.
In the JV game, East Central won the first game 20-25. East Central also took the second set 19-25. Kaitlyn Sarringhaus let the team in serving going 16 for 6. Maggie Wilson led in serve-receives and Kaylie Raver had the most assists with five.
In the Varsity match, East Central came to play winning the first set 14-25. Batesville came back in the second set winning 25-19. In the 3rd set East Central stepped up their game and took not only the 3rd set but the 4th as well. Winning 17-25 and 19-25.
Batesville will head to Milan on Thursday night for their next volleyball match.
Courtesy of Bulldogs Coach Vickie Heil.
Lady Pirates Varsity Soccer traveled to face East Central Trojans losing 7-0.
East Central's passing game proved too much for the Pirates. Starting for the first time in goal, Sophomore Emilee Ernstes saw a total of 38 shots and managed to keep 31 from reaching the scoreboard. Senior Captain Hilary Ernstes also recorded four blocks from goal. Final score is 7-0.
The Lady Pirates travel to Shelbyville Thursday (9/20) with a start time of 5:30. Greensburg's record is 4-4 and 0-2 in the conference.
Courtesy of Pirates Coach Ryan Morlan.
Franklin County High School Girls Junior Varsity Volleyball beat South Dearborn High School 2-0.
Great team win against EIAC opponent, South Dearborn! Our serves were the highlight of our night as we had many ace serves. Hadlee Hornsby had 4 ace serves, 1 dig and 1 assist. Kiersten Schell had 7 kills and 2 ace serves. Kylie Lea had 1 ace serve and 1 assist. Laney Smith had 1 block. Stephanie Billman had 7 ace serves, 1 dig and 1 assist. Lauren Stacy had 1 kill. Brooke Bruns had 1 kill. Macy Crain had 2 kills, 1 ace serve, 1 block and 1 assist. Michaela Ferman had 1 kill, 3 ace serves and 5 assists. Kensee Ferman had 1 kill.
We are back on the road again tonight against another EIAC opponent, Connersville. JV starts at 5 and Varsity to follow.
Courtesy of Wildcats Coach Jill Mergenthal.
Franklin County Girls Varsity Golf finishes 1st place at Connersville/Union County. FCHS Golf Team traveled to Union County on Tuesday to compete in a Tri-Match vs Union County and Connersville. This course will be the site for this Saturday's IHSAA sectional.
FCHS won the match firing a 175. Connersville 206. Union County 207.
FC Scoring. Gracie Graf – 40; Camryn Brewer – 43; Nicole Mears – 45; Crystal Calihan – 47; Kelsie Brackney -57; Lillie Graf – 57.
Courtesy of Wildcats AD Denny Dorrel.
ECVB traveled to Batesville on Tuesday for our conference match-up. The freshmen split 1 set each, JV won in 2, and varsity won in 4.
Varsity won with the scores of 25-14, 19-25, 25-17, 25-19.
ECVB vs Batesville 9-15-20

Like our first match a couple of weeks ago, it was an exciting match to be a part of. We were coming off an extremely rough weekend at Zionsville a few days before, so I wasn't quite sure what team was going to show up. But the girls came out fired up and fought hard through a lot of ups and downs. Our serve receive struggled to get the ball in front of the 10-ft line, but our setters did better at still pushing the ball to our hitters. Seniors Allison Huismann and Jessie Stenger seem to be finding their connection as the season progresses and it showed that night. Our freshman and JV teams brought some added energy in the fourth set to help us finish strong and get the win! Overall, it was a great bounce-back win for us.
Varsity is now 9-6 on the season and 3-0 in the EIAC.
Next up: Lawrenceburg on Tuesday. Freshmen start at 5, JV will follow, then senior night, then varsity.
Courtesy of Trojans Coach Cassie Laker.