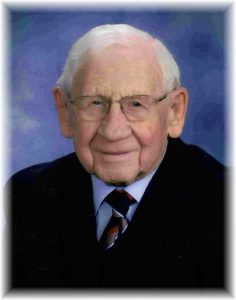 Clinton Henry Nolte, 99, died peacefully on September 15, 2020 at Decatur County Memorial Hospital in Greensburg, IN. He was born August 13, 1921, the son of John Henry and Catherine (Stover), who preceded him in death. Clinton married Gladys Marie Heffelmire on March 13, 1944 in Boise, Idaho and was a loving husband to her for almost 65 years.
Clinton started grade school in a one-room school house and rode in a horse-drawn school bus in Farmer's Retreat, IN. He graduated from Dillsboro High School in 1939 and enlisted in the Army Air Corps in 1942. He was a respected pilot of the B-24 Liberator during World War II. While stationed in Italy, he flew 35 missions.
After his military career, he graduated from the University of Cincinnati in 1949 with a pharmaceutical degree. Clinton worked at Wright's Drug Store in Greensburg, IN until he and Gladys bought the Schultz's Pharmacy in Batesville in 1958. It became well-known as Nolte's Pharmacy with the infamous penny candy. Clinton was also known for his perfect Christmas trees grown on a farm near Napoleon, IN.
After retiring in 1986, he and Gladys enjoyed traveling in their RV and spending time with family and friends. He also took pleasure in fishing, watching the Cincinnati Reds, reading, and even more fishing especially at Bischoff's Reservoir.
Clinton was a member of the Batesville United Methodist Church, Masonic Lodge and VFW. He was a Patriot who loved to watch Fox News.
He is survived by two daughters, Catherine Nolte and Mary Nolte, both of Greensburg; three grandchildren, Katrina (Hawkins) Burton and husband, Jason, of Zionsville, IN, Cara (Hawkins) Wickens and husband, Jesse, of Ellettsville, IN, and Clinton Wayne, of Lebanon, IN; great-grandchildren Clayton and Clinton Burton, and Ross and Caylen Wickens.
In addition to his parents and loving wife, he is preceded in death by one brother, Wesley and several cousins.
Visitation will be Saturday, September 19, 2020 from 9 a.m. to 12 p.m. at the Meyers Funeral Home in Batesville, IN. Funeral service will be 12:30 p.m. at the Batesville United Methodist Church. Rev. Chris Renick officiating. Burial will take place afterwards at the Oakdale Cemetery in Dillsboro, IN with military graveside honors.
In accordance with the Indiana COVID-19 precautions, all attending are to wear a mask and follow proper social distancing protocol. If you are not feeling well, or if you have compromised immune system, you are encouraged to stay home.
In lieu of flowers, memorials can be given to the Indiana United Methodist Children's Home in Lebanon, IN, Batesville United Methodist Church Memorial Fund or memorials of your choice, by bringing or mailing to: Meyers Funeral Home, P.O. Box 202, Batesville, IN 47006.
You are welcomed to leave a message at www.meyersfuneralhomes.com on Clinton's obituary page for the family in the online guestbook.