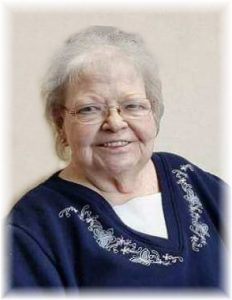 Judy Ann Lindsay, of Batesville and formerly of Greensburg, IN passed away on Sunday, September 13, 2020 at Franciscan Health in Indianapolis. She was 80 years old.
The daughter of Chris Napier and Ida (nee: Martindale) Grace was born on January 31, 1940 in Richmond, IN.
Judy worked for many years as the office manager for the Jim Pruett Law Office in Greensburg. She was a member of the ladies auxiliary Batesville Eagles Aerie #1130.  Judy was always up for game of some kind. Her favorites were playing bingo or cards.  Most of all she liked spending time with her beloved grandchildren and great-grandchildren.
She will be dearly missed by her husband, Ray Lindsay of Batesville; daughter, Bobbie Jackson of Batesville; son, Jerry Nunn of Trinity, FL; step-children, Phil Lindsay, Jerry Lindsay, Chris Lindsay and Steve Lindsay all of Connersville; 20 grandchildren and 20 great grandchildren.
In addition to her parents, she was preceded in death by her first husband, Jerry Nunn, brother, Chris Napier, 2 grandchildren and 1 great grandchild.
Visitation is Friday, September 18, 2020 from 9:30am – 11:00 am followed by 11am funeral service all at Meyers Funeral Home in Batesville.  Burial will be in the Crownhill Cemetery in Centerville, IN on Friday afternoon. Albert Reffitt is officiating.
In accordance with the Indiana COVID-19 precautions, all attending are to wear a mask and follow proper social distancing protocol. If you are not feeling well, or if you have compromised immune system, you are encouraged to stay home.
Memorials may be given to the Wounded Warrior Project c/o the funeral home by bringing to the service or mailing to: P.O. Box 202 Batesville, IN 47006.
You are welcomed to leave a message at www.meyersfuneralhomes.com on Judy's obituary page for the family in the online guestbook.