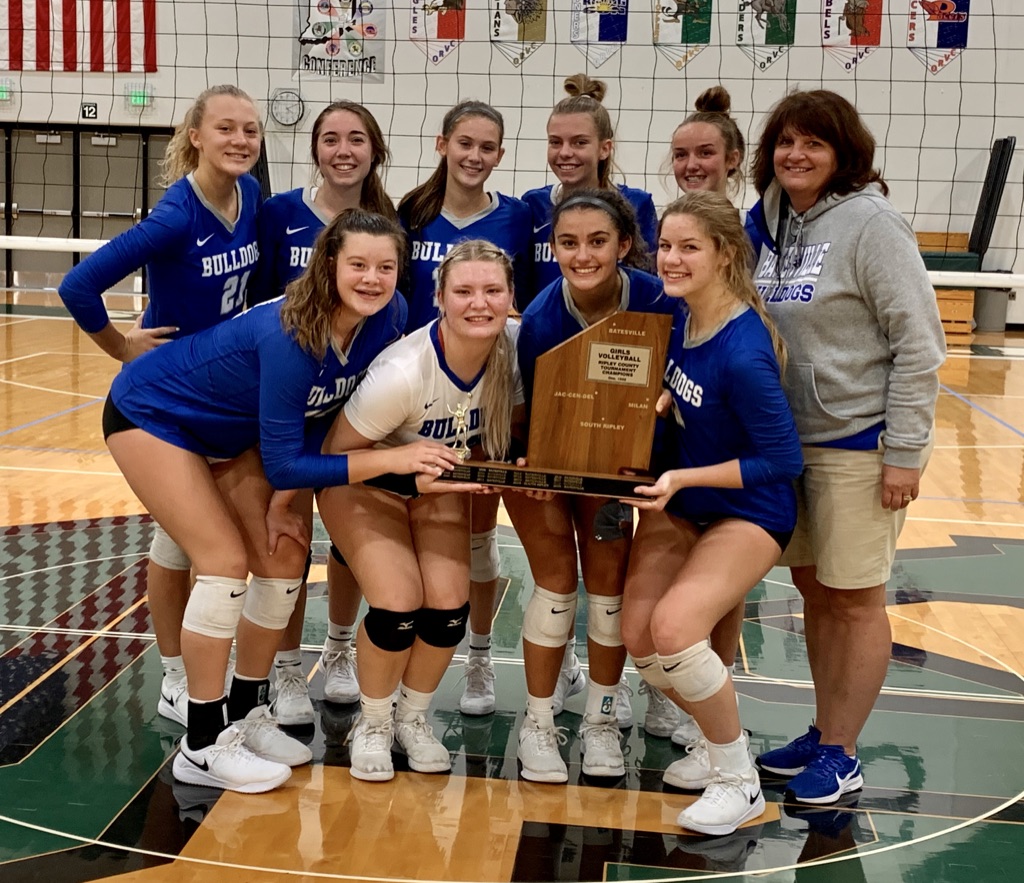 The Seymour Owls blanked The Oldenburg Twisters 5-0 in Boys Soccer.
Saturday Area Football Scores.
South Dearborn 21 Connersville 19
Edinburgh 49 Switzerland County 14
North Decatur High School Girls Varsity Cross Country finishes 3rd place at Jac-Cen-Del Invitational. The North Decatur Lady Charger Cross Country competed in the Jas Cen Del Invite on Saturday placing 3rd out 8th teams.
Chargers Runners, place and time. Jenna Walton 3 21:27; Paige Reisman 13 23:23; Addie Gauck 20 24:22 PR; Eliie Cox 30 25:57; Lauren Hollway 32 26:34; Hannah Allen 36 28:32 PR; and Paige Wesseler 39 31:03.
Team Scores. 1. Hagerstown 50; 2. Jac-Cen-Del 51; 3. North Decatur 72; 4. South Ripley 73; 5. Southwestern 103; Tied 6. Lawrenceburg, Switzerland County, and Milan Inc.
North Decatur High School Boys Varsity Cross Country finishes 6th place at Jac-Cen-Del Invitational. The North Decatur Boys Cross Country team participated in the Jac Cen Del Invite Saturday placing 6th.
Chargers Runners, place and time. Aiden O'Dell 12 18:28 PR; Brandan Gearhart 37 20:16; Charlie Kramer 38 20:18; Adam Mack 41 20:37 PR; Lance Nobbe 42 20:48 PR; Caleb Bowles 46 20:54; and Ryan Hancock 49 21:49 PR.
Team Scores. 1. Hagerstown 54; 2. Southwestern 78; 3. Rising Sun 90; 4. Jac-Cen-Del 98; 5. South Ripley 115; 6. North Decatur 161; 7. Lawrenceburg 174; Tied 8. Shawe Memorial, Switzerland County, and Milan.
Courtesy of Chargers Coach Kyle Nobbe.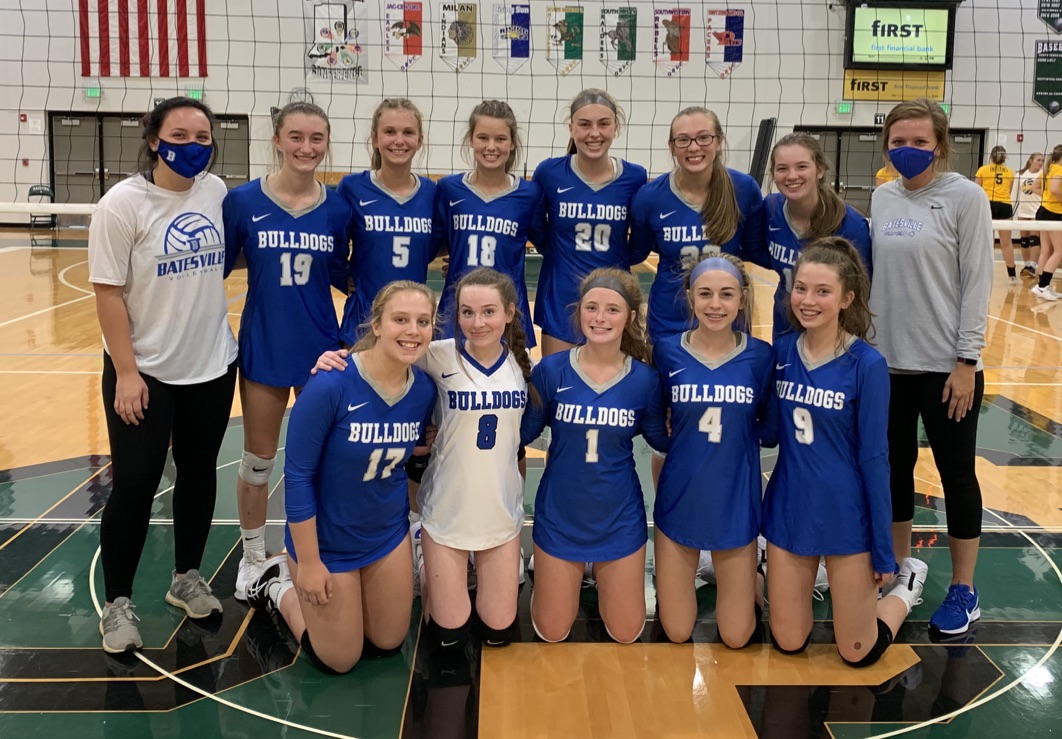 Franklin County Girls Varsity Volleyball falls to Greensburg 25-14, 25-8, 25-10.
The Lady Cats lost a tough match against EIAC Greensburg. Our defense was great today. We just couldn't keep the serve long enough to get a good run on them. Kassidy Schell had 3 kills, 1 block, 5 assists, 2 ace serves and 4 digs. Alex Gillman had 2 kills and 1 dig. Meredith Hoff had 2 kills. Saige Mergenthal had 1 kill. Makyah Richardson had 2 kills, 4 blocks and 1 ace serve. Jenna Bruns had 1 block and 2 digs. Kacie Williams had 2 assists. Kim Settles had 1 assist and 12 digs. Hadlee Hornsby had 6 digs. Rae Ertel had 1 dig.
We are on the road Tuesday, Sept. 15th to EIAC South Dearborn. The freshman game starts at 5 pm with JV and Varsity to follow.
Franklin County Junior Varsity Volleyball falls to Greensburg 25-19, 25-24.
Two tough sets were played by our JV Lady Cats. After battling back many points, we still fell short to EIAC opponent, Greensburg. Hadlee Hornsby had 3 kills and 11 digs. Kiersten Schell had 7 kills, 1 ace serve, 1 block, 5 digs and 1 assist. Kylie Lea had 18 digs. Laney Smith had 1 block and 1 assist. Stephanie Billman had 1 ace serve, 1 dig, and 4 assists. Lauren Stacy had 4 kills and 1 dig. Desirae Callahan had 1 dig. Macy Crain had 1 kill, 1 ace serve, and 1 dig. Michaela Ferman had 2 digs and 4 assists. Kensee Ferman had 3 assists.
We are on the road Tuesday as we take on another EIAC opponent, South Dearborn. Freshman play at 5 with JV and Varsity to follow.
Before the sun came up, the Batesville Cross Country team loaded on the bus to head for an 18 team invitational at Ben Davis High School.
The Bulldogs were up against many 4A-5A schools and many ranked in the top 25 of the state. The Dogs stepped up to the challenge and had a very good morning.
We had 4 athletes finishing in the top 20 of the race, 8 runners racing through with an all-time personal best time, and many others running the best time for the season.
I am super proud of our Bulldogs. Their efforts placed both the girls and the boys in 5th place overall (out of 18)! The girls were beaten by 5th ranked Zionsville who scored 66 points with 6th ranked Franklin Central at 70 and 12th ranked Brownsburg at 76. Also just in front of Batesville at 109 points was Center Grove (25th ranked) with the Bulldogs securing 5th place at 121 points. Leading the way for the Dogs was Ava Hanson crossing in 11th (19:46) and Sophie Myers, 20th (20:21) with Maria Lopez closely behind in 24th (20:25). Then a nice pack of Bulldogs crossed the line in 32nd, 24th, and 36th respectively. They were Madison Rahschulte (20:56), Lily Pinckley (21:00) and Megan Allgeier (21:04). Finishing out the top 7 varsity runners for Batesville was Trysta Vierling at 46th place (22:02).
The boys, also placing 5th were beaten by 10th ranked Zionsville with 47 points. Just behind them was Franklin Central (8th ranked) at 51 points, Brownsburg (23rd ranked) with 76 points, and Ben Davis at 119 points. The boys were led by Ean Loichinger fighting to the finish in 11th place (16:38) and followed closely by teammate Benjamin Moster in 15th place (16:43). Next for the Bulldogs was Adam Hollowell placing 27th (17:07). To finish out the top 7, Batesville had a nice pack of 4 competing to the finish line getting 44th, 45th, 46th, and 489th place. They were: Daren Smith (18:01), Nathan Villani (18:03), Will Nuhring (18:05), and Eli Loichinger (18:06).
Although the JV was not scored, the girls were led by Carley Pride getting 20th in the JV (23:35) and Kyler Daulton in 24th (18:56) and Landon Gutzwiller right behind him in 25th (19:02).
As mentioned above, 8 athletes ran an all-time personal best and they were Sophie Myers, Megan Allgeier, Benjamin Moster, Eli Loichinger, Will Nuhring, Nathan Villani, Kyler Daulton and Landon Gutzwiller. Way to go Dogs!
Batesville will get another great week of workouts as they will prepare for an even bigger race in Indianapolis next Saturday…the Riverview Invitational, hosted by Westfield. The Bulldogs will compete against 17 teams with 10 out the 17 girls teams are ranked in the top 25 right now and 12 out of the 17 boys teams are ranked in the top 25. This will be our toughest race of the season prior to Semi-State. Unfortunately, this will be a non-spectator day, but results will be immediately posted on www.iwant2run.com.
Good Luck Dogs!!!
Courtesy of Bulldogs Coach Lisa Gausman.
The Batesville Lady Bulldogs Varsity and JV teams capture The Ripley County Tourney Championship!
JV-Batesville vs. S. Ripley
Set 1 B'ville 25 S. Ripley 21
Set 2 B'ville 25 S. Ripley 12
Varsity
Set 1 B'ville 25 – S. Ripley 13
Set 2 B'ville 25- S. Ripley 9
JV Batesville vs. Milan
Set 1 Batesville 15- Milan 25
Set 2 Batesville 25 Milan 11
Set 3 Batesville 15 Milan 11
Varsity
Set 1 Batesville 30- Milan 28
Set 2 B'ville 25- Milan 22
Kaylie Raver and Kaylin Hinners led the JV team in serving for the day. Kaylie was 17 for 17 and Kaylin H. was 19 for 22 from the line. Kate Martin carried the team on serve-receive. Kaylin Hinners and Isabelle Wonnell led the team in hitting.
Courtesy of Bulldogs Coach Vickie Heil.
Two hard-fought sets resulted in a 2-0 loss in the 1st game of the Ripley County tourney for Jac-Cen-Del against Milan. (26-24, 25-23).
Eagles Coach Cat Schmeltz.
'We started out both sets strong and had the lead when we hit 20 in both sets. We just didn't keep the focus until the end of the sets to pick up the wins. Overall we played well today and the match could have easily gone our way with a few points going our way. We continue to make progress and the girls continue to work hard on a daily basis.'
Serving-McKenzy Gray 13/14–92.9%–3 aces; Marie Gohr 5/6–83.3%–2 aces; and Emma Newhart 8/9–88.9%–1 ace.
Serve Receive-Aundrea Cullen 26/28–1.61 rtg and Shayle Volz 10/11–1.82 rtg.
Hitting-Desiree Sparks 14/19–7 kills–+0.105%; McKenzy Gray 19/22–5 kills–+0.091%; and Marie Gohr 11/13–5 kills–+0.231%.
Blocking-Desiree Sparks—1.
Setting-Emma Newhart–36/38–11 assists and Katelyn Wagner 26/26–4 assists.
Dig-Emma Newhart—12; Shaylee Volz—11; and Aundrea Cullen—7.