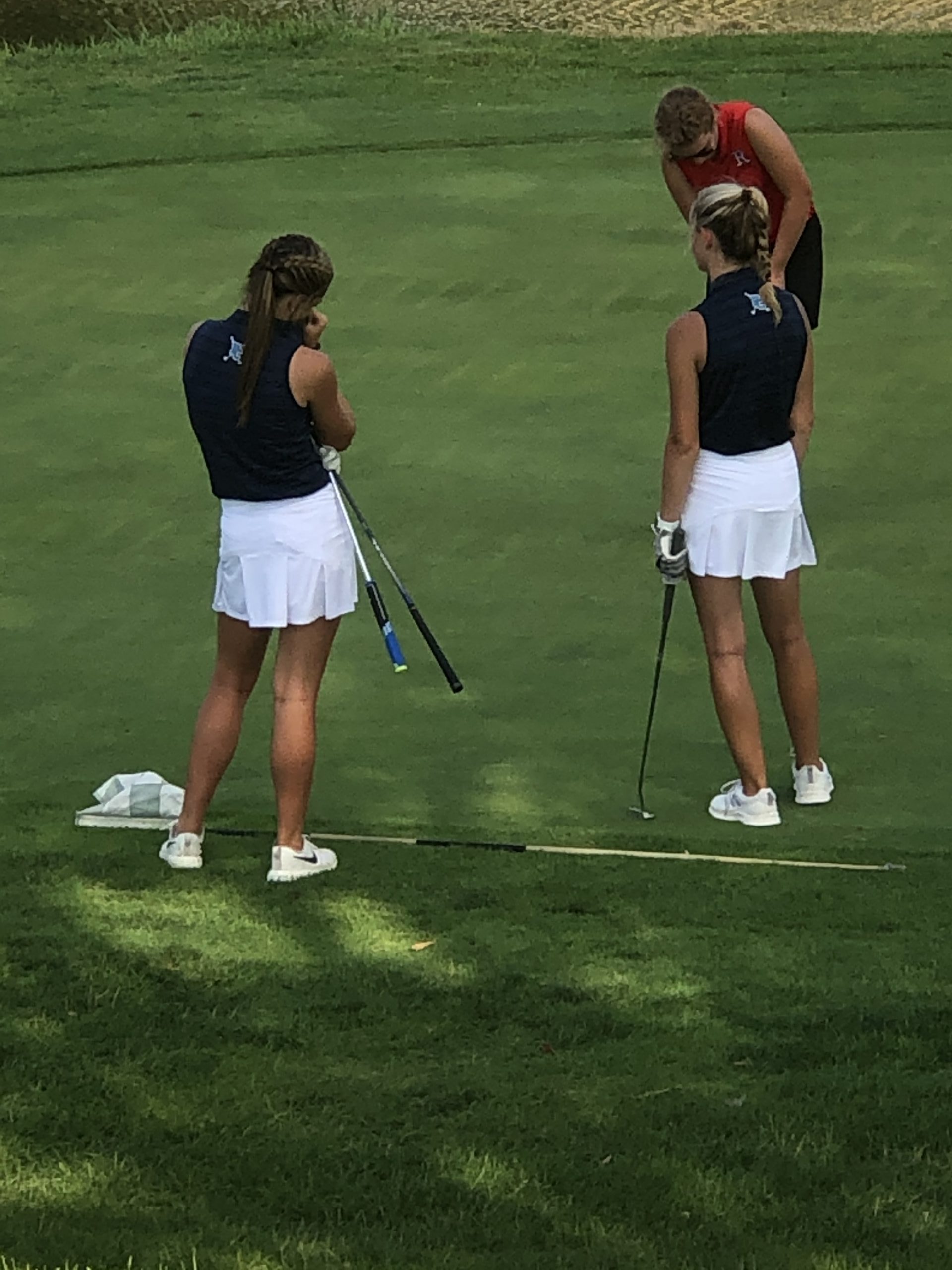 Franklin County High School Boys Varsity Tennis falls to Greensburg High School 4-1.
#1 Singles Jack Stirn 6-1, 6-3 vs. Brett Stringer
#2 Singles Brant Ertel 1-6, 1-6 vs. Isaac Tebbe
#3 Singles Nick Wendel 0-6, 0-6 vs. Karson Scheidler
#1 Doubles Lonnie Schwartz & Will Wade 3-6, 3-6 vs. Sam Bower & Abe Tebbe
#2 Doubles Landen Wuestefeld & Tanner Weartz 0-6, 1-6 vs. Bryce Stringer & Drew Messer.
Courtesy of Wildcats Coach Dylan Little.
The Batesville Lady Bulldogs defeated the Greensburg Pirates and the Lawrenceburg Lady Tigers at Hidden Valley Golf Course by a score of 183 to Lawrenceburg 198 and Greensburg 202.
Emma Weiler led the Lady Bulldogs with a 37. Other Batesville scores were Josie Meyer 43 Rhea Miller 49 Madelyn Pohlman 54. Chloe Murphy 55 Tori Harpring 56.
Courtesy of Bulldogs Coach Tom Meyer.
The BMS 7th Grade Volleyball Team earned their third straight victory over Milan by the scores; 25-13, 25-22.
Ava Walsman started the game with an impressive 18 consecutive service points including 5 aces. She added 8 more points including 2 aces in the second set to lead the team to victory. Grace Walter stayed aggressive in the front line earning 4 kills, but more importantly, hit with great accuracy on many set and overpassed balls throughout the match. Jade Martin and Walsman each had a kill. Reesa Zimmerman made many hustle plays to keep the ball alive in key moments. Way to go, ladies! We are proud of your efforts!
Courtesy of Bulldogs Coach Shelly Prickel.
The BMS 8th grade volleyball team had a solid win against Milan 25-11, 25-12.
The team was strong from the service line. Molly Meer had 11 points; including 7 aces. Sophie Gesell earned 10 points. Aly Peters added 8 points while Ava Powner contributed 5 points and Addison Westrick had 3 points. The setters of Sophie Gesell and Ava Powner continue to set the ball up for the hitters. Aly Peters had 2 strong kills and a tip for a kill. Lydia Haskamp & Annie Negovetich had 2 kills. And Kate Bauer chipped in 1 kill. The team is 5-2.
Courtesy of Bulldogs Coach Angie Ehrman.
SDMS is 3-0 after traveling to Connersville on Thursday to face the Spartans and coming away with two victories. SDMS Girls won 155-37. SDMS Boys won 147-43.
Individual winners include Riley Shumate – 100 IM, 100 Free; Brogan Wilson – 100 IM; Reagan Reany – 50 Free; Kyle Goodwin – 50 Free, 100 Breaststroke; Bree Cleary – 1 meter diving; Logan Burbrink – 1 meter diving; Aubree Popen – 50 Fly; Issac Quick – 50 Fly, 400 Free; Kennedy Shuler – 100 Free; Riley Reany – 400 Free; Elle Jankovsky – 100; Backstroke; Emmit Trent – 100 Backstroke; and Audrey Bumgardner – 100 Breaststroke.
SDMS won all 4 relays.
sdms vs. connersville 091020

SDMS has the next week off but travels Monday the 21st to Centerville to face the Bulldogs. Go AquaTrojans!!
Courtesy of Trojans Coach Brandon Loveless.
North Decatur High School Girls Varsity Golf beat Oldenburg Academy 244-999.
The Lady Chargers Girls Golf team competed against Oldenburg Academy at North Branch (Meadow). While Oldenburg did not have enough players to post a team score, Emerald Simmonds tied with Kenda Sieg for individual low scorer with both shooting a 55. This was also Kenda's personal best.
ND Individual Scores: Katy Kinker 60, Laronda Schwartz 58, Kenda Sieg 55, and Rilie Sieg 71.
Courtesy of Chargers Coach Madeline Childress.
The Lady Bulldogs lost 5-nil to Columbus East. It was a rough game in all, giving up 26 shots to our opponents.
Olive Cerniglia (Senior) Kept out 15 shots while tending goal.
Courtesy of Caleb Sucietto.
Franklin County Girls Freshman Volleyball beat South Dearborn/Rushville 2-0.
FC Freshman volleyball hosted EIAC Rushville and South Dearborn teams. We beat Rushville in 2 sets, 25-13 and 25-21. Kristen Ison had 9 ace serves and 5 assists. Kensee Ferman had 2 kills and 1 assist. Sophie Garrett had 2 kills. Veronica Reeves had 4 kills, 1 ace serve, and 1 dig. Daphne Stokes had 2 kills and 1 block. Piper Twiggs had 1 ace serve. We sat next game while Rushville played South Dearborn.
Then, we played South Dearborn and won in 3 sets, 16-25, 25-21 and 15-12. Kristen Ison had 3 ace serves and 5 assists. Kensee Ferman had 3 kills, 2 ace serves, and 1 assist. Sophie Garrett had 1 kill. Veronica Reeves had 1 kill, 3 ace serves, and 1 assist. Daphne Stokes had 3 kills and 1 ace serve. Chloe Clark had 1 kill.
Freshman/JV/Varsity travel to South Dearborn Tuesday, Sept. 15th. Game starts at 5 pm.
Courtesy of Wildcats Coach Jill Mergenthal.
Batesville Varsity Tennis defeated Columbus East 4-1 on Thursday.
Lleyton Ratcliffe and Jaden Smith won at #1 and #3 singles while Cael Rahe played a great 3-set match but came up short at #2 singles. Sam Voegle/Max Giesting & Jackson Tracy/Hank Ritter both picked up doubles wins.
In JV, Batesville won 5-0. Lyle Oesterling, Cole Pride, and Chase Schwegman won in singles along with doubles wins from Alec Bunselmeier/Sam Johnson and Jackson Wanstrath/Landon Oldham.
Courtesy of Bulldogs Coach Mike McKinney.
Jac-Cen-Del Boys Varsity Soccer beat Rising Sun 5-0.

This was a very important game for us on our schedule. If we won we would go 5 points up in the conference race, but if we lost we would be down 1 point and still have to go to Rising Sun and play.

The boys came out ready to play tonight and we were able to score 2 goals in the first 3 minutes. That really set the tone for the game, we were able to play much more relaxed with a 2 goal lead. I think this is probably the best 80 minutes of soccer we have played this season.

Rising Sun has a couple of very talented offensive players that are capable of scoring a lot of goals. I felt out defense did a great job of keeping them contained in this game.

JCD Goals. Jacob Jines – 2 and Yuki Yamashita – 2.

Assists. Morgan Sutton -1; Jacob Jines – 1; Ryan Wilson – 1; and Jordan Meyer – 1.

Courtesy of Eagles Coach Derek Jones.
Jac-Cen-Del High School Varsity Volleyball falls to Southwestern-Hanover 19-25, 25-16, 25-16, 17-25, 15-12.
Eagles Coach Cat Schmeltz Comments.
'We continue to put together some great volleyball. Our serve receive has been solid all year and our aggressive serving has helped win us some sets. We need to continue to work on staying focused throughout the match in order to come out with some wins.'
Serving. Aundrea Cullen 17/19– 89.5%–3 aces; Emma Newhart 18/19–100%–2 aces; and Katelyn Wagner 14/14–100%–2 aces.
Serve Receive. Shaylee Volz 25/26–1.46 rtg; Aundrea Cullen 22/28–1.50 rtg; McKenzy Gray 15/19–1.11rtg; and Emma Newhart 10/11–1.27 rtg.
Hitting. Emma Newhart 34/38–7 kills–+0.079%; Shaylee Volz 23/28–6 kills–+0.036%; McKenzy Gray 19/22–6 kills–+0.0136%; and Desiree Sparks 20/22–5 kills–+0.0136%.
Blocking. McKenzy Gray—4; Desiree Sparks—3; Julia Meyer—3.
Setting. Emma Newhart– 63/64–13 assist; Katelyn Wagner– 49/50–8 assist; and Aundrea Cullen– 30/30–3 assist.
Digs. Shaylee Volz—37; Aundrea Cullen—20; and Emma Newhart—18.