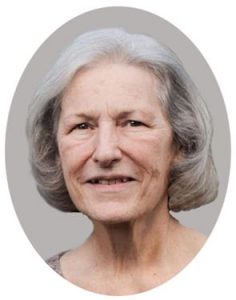 Ella Jean Laker, 68, of Enochsburg, Indiana, passed away on Friday, September 4, 2020, at The Waters of Batesville. Ella was born November 17, 1951, in Batesville, Indiana, to Clifford and Gertrude "Katie" (Goldsmith) Fichtner. She graduated from Immaculate Conception Academy in Oldenburg in 1969. Ella was married to Dan Laker on November 22, 1969, at St. John the Evangelist Church in Enochsburg, and they recently celebrated their 50th anniversary.
Ella worked as a waitress for many years at Fireside Inn and later as the head housekeeper at JAWACDAH Farm. In her free time she enjoyed sewing doll clothes, quilting, reading (especially Stephen King novels), watching movies starring Johnny Depp and writing long flowy letters to family and friends. Ella loved all genres of music and especially liked Elvis, the Beatles, the Beach Boys, Michael Jackson, Keith Urban and the Bee Gees, and she was a good dancer as well. She was known for her quick humor and enjoyed a good joke. She was an amazing cook and made a legendary Thanksgiving dressing. She deeply loved her family and spent much of her retirement years doting on her beloved grandchildren.
Ella is survived by her husband Dan of Enochsburg, four children, Matt and wife Lisa (Horner) Laker of Indianapolis, Marc and wife Deidre (McKinney) Laker of Greensburg, Amanda Rosenberger and husband Dan of Brookville, and Andrew "Butch" and wife Kat (Scheidt) Laker of Columbus; brother Dan Fichtner of Batesville, sister Mary Mays of Batesville; five grandchildren, Butch, Cheyenne, Addison, Lydia and Grant, and numerous nieces, nephews and extended family members. She is preceded in death by her parents, sisters Arlyn Sorce, Judy Schutte and Darla Benz, brother Dick Fichtner, and one niece, Lisa Sorce.
Visitation for the public is Wednesday, September 9th, from 10 a.m. until Noon at the Weigel Funeral Home. The current Governor's mandate requires all attendees wear a facemask and observe physical distancing. The mask must cover the individual's nose and mouth at all times. A private service will be held at Noon for immediate family only due to crowd restrictions related to the COVID mandate. The service will be live streamed for everyone and can be viewed by going to Ella's obituary page on our website (www.weigelfh.com) and clicking on the link. A private burial will be held at St. Catherine of Siena Cemetery Enochsburg. In lieu of flowers the family requests memorials to the Alzheimer's Association (alz.org).