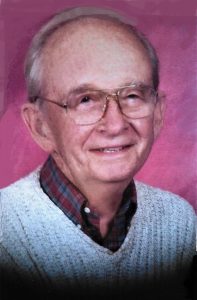 Thomas Roland "Tom" Ward, of Aurora, IN, passed away peacefully on Friday, August 14, 2020 surrounded by his loving family. He was born Friday, June 1, 1928 in Sunman, IN, son of the late Thomas B. Ward and Mary E. (Robinson)Ward. Tom was an only child whose childhood revolved around the creek, river, Boy Scouts, running track at Aurora High School and drawing. His high school sweetheart and love of his life was Carol Dartnall After high school in 1946, he asked if the Indianapolis Times would buy his cartoons. He picked up jobs at the Indianapolis Speedway drawing the drivers and cars. His drawings helped him to land a job with Speed Age Magazine and at the age of 19, he had a budding career as a cartoonist for a national magazine and newspaper.
The Korean War changed his career plans. In 1950, he enlisted in the Air Force and married Carol Dartnall on December 23, 1950. He became a map maker due to his artistic abilities and would take classified information brought back from the front lines and turned it into maps for the troops and pilots. He came back home in 1955 and joined the family business as a designer and sales person for the Indianapolis Chair Co., located in Aurora, IN. Four years later, in 1959, he became a designer, national sales director and later a motivational speaker for Aurora Casket Co. He spoke at 85-95 Seminars and training groups per year. Tom always had a very good sense of humor which not only surfaced at his speaking engagements, but was also known to show up in the local papers.
He was a runner before it was popular and even ran in the Boston Marathon a couple of times. He ran 31 miles through "Red's Country" from Aurora to Cincinnati, Ohio in 1975. Tom was an artist, cartoonist, runner, speaker, preacher, Sunday School teacher, motivator, the voice of Wheels Johnson on the radio, quick witted like his folks, and a fantastic storyteller that could lift anyone's spirits!. He embodied the American Dream. Tom would also say that, "If you pray, work hard, persevere, read the Word, then with God's help you have a chance to succeed."
Tom was a member of the First Baptist Church Aurora, a 32nd Degree Mason, a life member of the Korean War Veterans Association. He painted and produced a cartoon "Racing Days" Comic Strip (Main Character Hub Cap & his girlfriend, Bea Sharp) in the Script Howard & Indianapolis Times until the war. In later years, he produced a single panel cartoon for the local paper for 9 yrs. Mr. Ward's talent spread in many directions. He painted local scenes and paintings of the Aurora area with his infamous little black dog and also John 3:16 tagged in most every picture. Tom's faith was truly his most admired attribute. His character was exemplary. He walked his Christian life out in his everyday living through his work, memberships, paintings, cartoons and I'm sure with any of the other runners that he had the opportunity to interact. He will truly be missed by everyone.
Tom was a wonderful role model and provider for his family. He adored Carol, who preceded him in death in 2007, but together enjoyed 56 years of marriage. He made it possible for his children, grand children and a few of the greats got to experience fun times and the beauty of Lake Louise which are cherished memories.
He is survived by sister-in-laws: Juanita Dartnall and Barbara Dartnall. His children, Jim (Dorothy) Ward, John (Cathy) Ward, and Mary Jean (Jeff) Feiss. Grandchildren, Derek (Kim) Feiss, Marcie (Steve) Kelly, Brandon (Michelle) Feiss, Ashley (Ben) Huff, Josh (Anne) Ward, Nathaniel (Shelly Steward) Ward, Christopher (Brittany) Ward, Katrina (Nate) Ward and Seth Ward. Great grandchildren, Blake, Conner, Haley, and Audrey Feiss, Cooper and Emmie Kelly, Kaylee, Megan and Natalie Wetzel, Calvin, Cannon, and Nixon Huff, Brooklyn and Claire Ward, Griffin and Adrienne Ward.
Visitation will be held at the First Baptist Church of Aurora, 6060 Blair Road, Aurora, Indiana 47001 on Thursday, August 20, 2020, from 11 AM to 1:30 PM. A private family funeral will follow. Please remember the present restrictions and practice social distancing and please bring your mask.
Donations may be made to the First Baptist Church, First Presbyterian Church or Ridgewood Health Campus. If unable to attend services, please call the funeral home office at (812) 926-1450 and we will notify the family of your donation with a card.
Interment will follow in the Riverview Cemetery, Aurora, IN. Military graveside services will be conducted by members of local Veterans Service Organizations.
The family wishes to thank the loving care that was provided for Tom at Ridgewood Health Campus and High Point Health hospital, the nurses, doctors, and most especially Tom's beloved daughter who helped him to run the race these 92 years. Matt. 23:25 "Well done, good and faithful servant!"
Visit: www.rullmans.com