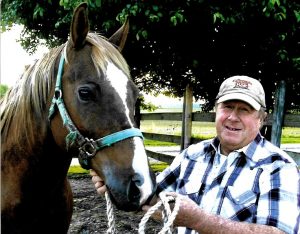 Richard R. Buckler, of Brookville, was born on May 25, 1938 in Brookville, a son to Francis and Marie Ziegler Buckler.  He married Geraldine Stenger on May 1, 1965 at St. Michael Catholic Church and together they raised three children.  Dick farmed and also worked at National Monument, Gillman's and the Franklin County Park.    He was a member of St. Michael's Catholic Church and was a Franklin County 4-H Committee Leader, showing chickens.  Dick loved horses, farming, fishing and collecting toy farm equipment.  On Saturday, August 15, 2020 at the age of 82, he passed away in Columbus, Indiana.
Those surviving who will cherish Richard's memory include his loving wife of 55 years, Geraldine Buckler; children, Ronald (Kimberly) Buckler of Brookville, Debbie (Darrell) Banks of Laurel, and Sandy (Joe) Baxter of Brookville; five grandchildren, Kaylee, Evan, Anna, Ben and Jax; one great-grandchild, Jamison; one brother, August (Marilyn) Buckler of Millville, OH, and one sister, Mary (Jon) Schuck of Brookville.  He was preceded in death by his parents.
Friends may visit with the family on Thursday, August 20, 2020 from 10 a.m. until 12 noon at Cook Rosenberger Funeral Home, 929 Main Street, Brookville.  Fr. Vincent Lampert will officiate a Mass of Christian burial at 12:30 at St. Michael Catholic Church.  Burial will follow in the church cemetery.
Due to the COVID-19 precautions and state mandates, all attending will be asked to follow proper social distancing protocol, including wearing a mask. If you are not feeling well, or if you have compromised immune system, you are encouraged to stay home.
Memorial contributions can be directed to the Franklin County 4-H Association.  To sign the online guestbook or to leave a personal condolence please visit www.cookrosenberger.com.  The staff of Cook Rosenberger Funeral Home is honored to care for the family of Richard Buckler.