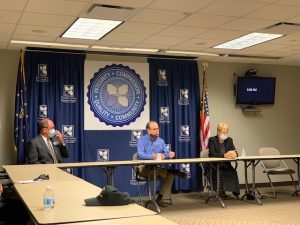 Greensburg, IN — Senator Mike Braun held an informal roundtable meeting with community leaders at Decatur County Memorial Hospital (DCMH) on Wednesday. According to DCMH CEO Rex McKinney, the hospital was very pleased to be able to host the community conversation. Both McKinney and Sen. Braun spoke about important issues with the hospital and D.C., respectively, before opening the floor for others to ask questions.
Braun was asked his perspective on helping to bring rural broadband to Decatur County. Braun stated that relying on the federal government for financing is not the right approach. He continued to say he feels this should be more of a localized funding focus from the private sector.
Another question posed to Braun was if he supported funding schools 100%, though they may have to institute virtual learning this year. Braun responded by stating that he feels the majority of Americans want children back in school and he does not support 100% funding of a school if they chose to go virtual.