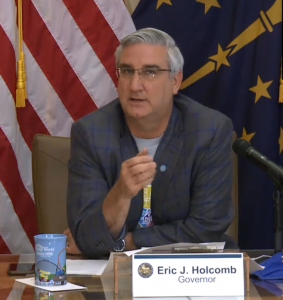 Statewide — Governor Eric J. Holcomb announced on Wednesday that he will ask the Indiana State Board of Education to take action to ensure that Indiana's K-12 schools receive 100 percent of funding as he committed earlier this summer.
Governor Holcomb will ask the State Board of Education to call a special meeting for the purpose of taking action to delay the fall count of student enrollment, commonly known as the Average Daily Membership, through at least December. The count date is currently scheduled for September 18. Indiana law allows the State Board of Education to take action to change the count date, among other reasons, when there are extreme patterns of illness.
The Average Daily Membership count, which is completed twice a year, is used to set new funding levels for schools. The count requires school districts to designate students who receive at least 50 percent of their instruction virtually as virtual students. School corporations in Indiana receive 85 percent of the foundation formula dollars distributed for virtual students.
Concern has been raised in recent days that schools electing to begin the academic year by providing virtual-only instruction because of the changing coronavirus conditions in Indiana would receive 85 percent of funding for all of their students once the count date occurs.