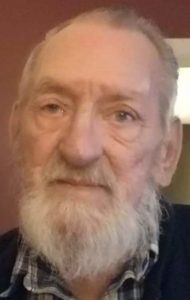 David Davidson, 70, of Milan passed away Tuesday, August 11, 2020 at Mercy Health West in Cincinnati, Ohio.  David was born Friday, July 21, 1950 in Sunman, Indiana, the son of the late Marjorie (Jenkins) and James Davidson.  He married Pamela Davidson and she survives.  David served his country in the U.S. Army during the Vietnam Era.  He was self-employed as a painter and was of the Baptist faith.  He was a member of the Milan F & AM #31 Masonic Lodge; life member of the VFW; and member of Milan American Legion Post #235.  His hobbies included listening to Bluegrass music, watching westerns, gardening, bushhogging, raising cattle, and working in the barn.  He enjoyed spending time with family and friends at the Milan American Legion. He loved spending time with his grandchildren and grand dogs.
David is survived by his wife Pamela of Versailles; son David Davidson of Greensburg; daughter Karen Davidson of Indianapolis; brothers: Larry of Moores Hill, Billy of Moores Hill, Timmy of Moores Hill, Greg (Tammy) of Milan; sisters: Shirley Berry of Moores Hill, Judy (George) Volz of Milan, Marlene (Melvin) Honeycutt of Elrod, and Susie (Richard) Vandyke of Greensburg; sister-in-law Carroll (Abby) Davidson of Greensburg; four grandchildren; and 1 great grandchild.  He was preceded in death by his parents Marjorie and James; and siblings: Raymond Jenkins, Patrick Lazenby, James Davidson, Linda Colson, and Jerry Davidson.
Family and friends may gather to share and remember him 5 – 7 PM Friday, August 14, 2020 at Laws-Carr-Moore Funeral Home in Milan.   Masonic service at 6:45 PM provided by the Milan F & AM #31.  A service celebrating his life will be held 7 PM Friday, August 14 also at the funeral home with Roger Moore officiating.  Full military rites provided by the Milan American Legion Post #235 following the service.  Memorials may be given in honor of David to Hope Baptist Church or Milan American Legion.  Laws-Carr-Moore Funeral Home entrusted with arrangements, 707 S Main Street, Box 243, Milan, IN 47031, (812) 654-2141.  You may go to www.lawscarrmoore.com to leave an online condolence message for the family.  Due to the Governor's mandate, social distancing should be observed, and masks are required.