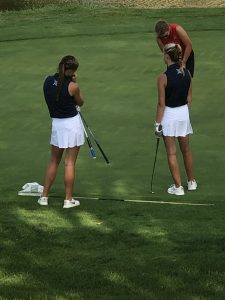 The Jac-Cen-Del Lady Eagles headed back to Belterra to participate in a 4-way match with Switzerland County, Shawe Memorial, and Southwestern-Hanover. The Lady Eagles once again only 3 players and were unable to field a team score as well as Southwester-Hanover with only two players.
The results are as follows:
JCD: Tracy McKittrick – 61; Ally Mosier – 70; Emma Wagner – 72.
Southwestern: Hannah – 64; Ximena – 71.
Switzerland County: Hailey – 68; Rori – 69; Kenna – 69; Brooklyn – 71.
Team – 277
Shawe: Kira – 57; Bailey – 65; Yoleh – 69; Gia – 72.
The Lady Eagles traveled to Belterra Golf Club to take on Switzerland County in the first match of the season. Neither team had enough players to field a team score. Jac-Cen-Del took three girls and were led by their number one, sophomore, Tracy McKittrick with a 61. Following was freshman, Emma Wagner with a 71 as well as freshman, Ally Mosier with a 72.
Courtesy of Eagles Coach Jason Walke.
The North Decatur Lady Chargers traveled Tuesday Night to Royal Hylands Golf Club to compete against Eastern Hancock coming up short 229-255.
Lady Chargers Individual Scores: Katy Kinker – 60; Laronda Schwartz – 60; Kenda Sieg – 68; Rilie Sieg – 67.
Courtesy of Chargers Coach Madeline Childress.
The Batesville Lady Bulldogs defeated the Connersville Lady Spartans at The Willow Brook Golf Course by a score of 188 to 216. Emma Weiler was match medalist with a score of 1 under par 35. Other scores for Batesville were Josie Meyer 44 Tori Harpring 53. Rhea Miller 56. Madelyn Pohlman 58. Chloe Murphy 59. Baylee Schneider was low for Connersville with a 50.
Courtesy of Bulldogs Coach Tom Meyer.
The Franklin County Lady Wildcats continued to play well defeating Richmond 171-188 at Brook Hill Golf Course. Freshman Nicole Mears tied for low medalist with a 41.
Lady Wildcats Individual Scores: Gracie Graf – 45; Camryn Brewer – 47; Nicole Mears – 41; Crystal Calihan – 48; Kelsie Brackney – 56; Lillie Graf – 58; Jacy Grimmeissen – 62.
Courtesy of Wildcats AD Denny Dorrel.