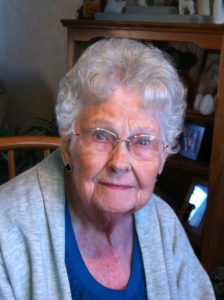 Hazel C. Moore, 96 of Greensburg, passed away on Monday, August 10, 2020. Hazel was born on March 28, 1924 in Decatur County, the daughter of Ralph and Alpha (Hancock) Mires. Hazel was a 1942 graduate of Burney High School. On March 21, 1944 she married Jessie Moore, they were married for 55 years until his passing on April 10, 1999.
Survivors include her daughter – Rebecca (Jerry) England of Greensburg; her son – Jesse (Frances) Moore of LaPorte, Indiana; four grandchildren – Daniel Moore, Christopher England, Melody England and Heather England; and seven great grandchildren. She was preceded in death by her parents, her husband, one daughter – Robin Sue Moore and her two sisters – Silvia McClintic and Leona Collins.
Visitation for family and friends will be held on Wednesday, August 12, 2020 from 11am until the time of the funeral service at 12pm at the Gilliland-Howe Funeral Home with Rev. Mark Studler and Rev. Doug Preston officiating. Burial will follow at the South Park Cemetery. Memorial contributions may be made to Lifeline Wesleyan Church or Our Hospice. Online condolences may be made to the family at www.gilliland-howe.com.