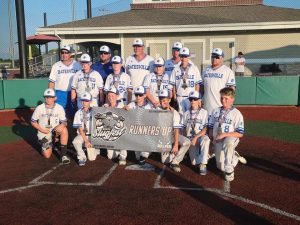 The Batesville Bats 12U were runners-up at the Grand Park August Slugfest this past weekend. The squad defeated Brownsburg 4-3 in the quarter-final, Avon 7-2 in the semi-final before losing the title contest to the Louisville Makos 15-5.
In pool play on Saturday, the Bats tied Tinley Park, IL 11-11 before defeating the Indiana Bulldogs 7-2 to earn the 5 seed out of 17 teams.
The Bats (20-9-1) are in action next weekend in the Grand Slam Classic in Columbus, IN. Go Bats!!!
The club would like to thank our sponsors, who without this experience would not be possible during these tough times: Buckley's Service Center; Randy's Roadhouse; Doug Smith, Realtor; Meyer's Custom Cues;
Spankys ATV; Widener's Automotive Inc.; Batesville Fraternal Order of Eagles Aerie #1130; Lee's Country RV; Tree City Sports Cards; The Big 4 Cafe; The Toros Batesville; KFC/Taco Bell; Batesville Tool & Die; Wallpe Chiropractic and Wellness, LLC; Southeastern Insurance; Med-Mizers Inc.; Koch's Auto Parts & Service, Inc.; Dunlaps Building Supplies; TEK Sealcoating; Bruns-Gutzwiller; Kyle Denni & Olivia Denni;
Weigel Funeral Home; Johnson Auctioneers; and Hoosier Ice Queen.
Courtesy of Bats Coach Paul Drake.