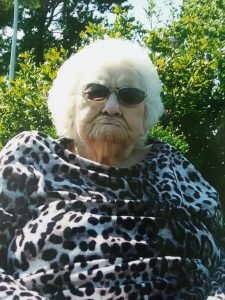 On Wednesday, August 5th, 2020 Opal J. White loving wife, mother and grandmother passed away peacefully at Hickory Creek Nursing Home in Greensburg, Indiana at the age of 96.
Opal was born in Bath County, Kentucky on March 24th, 1924 to the late Steven and Martha (Cox) White. Opal married John Willard White in December of 1940 and they had eight children. Johnnie (Jr) (Nancy) of Ohio, James (Treva) of Indiana, Virginia (Jenny) (Thomas) Wilhelm of Indiana, Carolyn (Dale) Owens of Indiana, Dorothy (Thomas) Murray of Indiana, William (Sherry) of Indiana, Richard (Luci) of Ohio and Jackie (Lori) of Tennessee.
She was proceeded in death by her brother Lodi, sister Mary, parents Steven and Martha, husband John, three children Richard, Carolyn, Johnny (Jr) and seven grandchildren, David Christman, Christina White, Brian Traylor, Rickie White, Vickie Wagoner, and Johnnie White. A very special brother-in-law James Clarence (Red) White.
She is survived by five children, 32 grandchildren, and many great and great-great grandchildren, step grandchildren, nieces, nephews and a best friend of 60+ years Beula Purvis.
Visitation will begin at 11:00 a.m. Saturday, August 8, 2020 at Hedrick Church.
Funeral services will be held at Hedrick Church and Cemetery in Bath County Kentucky, 5308 Old Sand Rd. Salt Lick, Kentucky 40371, on Saturday August 8, 2020 at 1:00 p.m.
Richardson Funeral Home is handling the arrangements in Kentucky. Online condolences can be made to the family at www.gilliland-howe.com