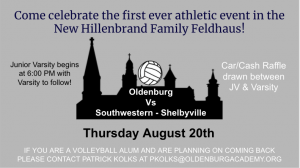 Be a part of this historic event as Oldenburg hosts its first athletic competition in the new Hillenbrand Family Feldhaus on Thursday, August 20th!
"This is a big milestone here at OA. For all of our alumni, it's a chance to come back and see how OA athletics has evolved from when they played. We would love to have as many OA volleyball alumni come back for the game, and support our current Lady Twisters." Oldenburg's Athletic Director Patrick Kolks said.
The Lady Twisters will take on the Lady Spartans of Southwestern Shelbyville; JV will start at 6:00 with varsity to follow. Between the games, there will be OA's Annual Car/Cash Raffle drawing.