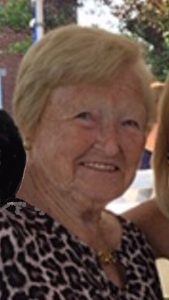 Marjorie A. Fohl, of Cedar Grove, was born on August 2, 1930 in Cedar Grove, a daughter to William and Ester Kunkel Haas.  She married Robert Fohl and together they raised seven children.  Marjorie worked at Sperry Rubber and Plastics for 34 years, and was a member of Holy Guardian Angels Church, the Daughters of Isabella, and the Cedar Grove EMS.  She loved her flower gardens, spending time with family and working at the Rose Bud Junction in Metamora on the weekends.  On Wednesday, August 5, 2020 just 3 days after her 90th birthday, she passed away at Brookville Healthcare.

Those surviving who will cherish Marjorie's memory include her children; Gary (Patricia) Fohl, Daniel (Marlene) Fohl, both of Cedar Grove, Karen Fohl Bischoff (Steven Bohman) of Batesville, Robin (Mary Jo) Fohl of Brookville, Dale (Beverly) Fohl, Terrance (Cindy) Fohl, both of Cedar Grove, and Kyle Fohl (Brenda Paxton) of Brookville; 15 grandchildren, Robert, Ryan, Randal, Jason, Kurt, Derrick, Jeffrey, Eric, Emily, Abby, Kaitlin, Michele, Adam, Chelsea, and Aaron; 16 grandchildren, Garret, Conner, Lexi, Allison, Charlotte, Macy, Megan, Austin, Isabella, Mary, Zoey, Dilyn, Isla, Kinley, Emma and Layne; a brother, John Haas; sisters-in-law, Edith Haas and Jeanette Haas, and a brother-in-law, Donald Falk.  Besides her parents and husband, she was preceded in death by twin granddaughters, Carrie and Christina; three sisters, Marilyn Haas, Carol Hannah, and Shirley Falk; one brother, Bill Haas, and a brother-in-law, Dennis Hannah.

Friends may visit with the family on Saturday, August 8, 2020 from 9 until 11 a.m. at Holy Guardian Angels Oratory in Cedar Grove.  A Mass of Christian Burial will be officiated by Father Vincent Lampert and burial will follow in the church cemetery.

Due to the COVID-19 precautions and state mandates, all attending will be asked to follow proper social distancing protocol, including wearing a mask. If you are not feeling well, or if you have compromised immune system, you are encouraged to stay home.

Memorial contributions can be directed to the Holy Guardian Angels Cemetery – made payable to St. Michael (please note HGA cemetery in memo).  To sign the online guestbook or to leave a personal condolence, please visit www.cookrosenberger.com.  The staff of Cook Rosenberger Funeral Home is honored to care for the family of Marjorie Fohl.