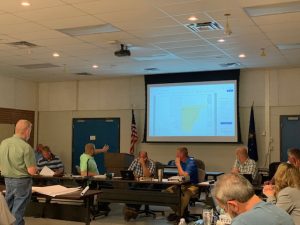 Greensburg, IN —The Decatur County Area Plan Commission voted 7-1 in favor of re-zoning close to 94 acres from A-1 zoning to an I-2 zoning for Property owned by BEX Farms, a subsidiary of Best Way Disposal.
Paul Stone, President of the Area Plan Commission, made it clear to the audience the petition on which the Commission was to vote, was to be on the rezoning of property and not on a landfill. Stone stated that if it should pass, the discussion on a landfill would be at the Board of Zoning Appeals meeting.
During the last meeting in March petitioners were asked three questions to bring back to the Commission: what is the smallest amount of land that is necessary for rezoning, what is the life expectancy of the landfill currently and if additional space is approved, and can something be done to help with the odor issues. Kurt Pueblo, speaking on behalf of BEX Farms stated that they were reducing their petition from 150 acres to 93.98 acres to be rezoned and that approximately 48 of those acres would be used for a future landfill. Pueblo stated that the current life expectancy of the landfill is between 10-12 years and adding the additional land would increase this by 20-30 additional years. As both audience members and AP Commissioner Sheila Kirchhoff addressed continuing odor issues, Pueblo stated that work has been done to contain the smell including increasing soil cover and maintenance to newly installed gas pipes. After hearing from several members of the community that were all opposed to the potential landfill, the commission voted in favor.
The vote now moves to the County Board of Zoning Appeals for a vote on the petition for a conditional use as a landfill.