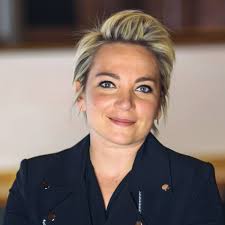 Greensburg, IN — In one form or other, The COVID-19 Pandemic of 2020 certainly has disrupted business as usual for almost everyone, including the Greensburg/Decatur County Chamber of Commerce. The Chamber made the decision to move forward with the Women in Business Conference, only in a different format.
Inspire, Influence, Innovate will be the theme for this year's event and will feature a keynote speaker making a return engagement with all new material written specifically for the Greensburg/Decatur County Chamber of Commerce Women in Business Conference.
The event will present three – one hour live virtual sessions over a three-week period beginning Aug. 27. 2020. The event will run on consecutive Thursdays, Aug. 27, Sept. 3 and conclude Sept. 10. Each session will have a specific theme starting with Inspire, followed by Influence and concluding with Innovate."
Executive Director Jeff Emsweller said there will be an opportunity for attendees to also participate in a bonus session following each program, where they will receive an additional 15 minutes of question and answer time with Lindsay following the conclusion of each presentation.
The Chamber Director said that attendees who register for the total Women in Business Conference Experience (all three sessions) by Aug. 17, will receive a swag box either delivered to them or picked up.
Also, registered attendees will be eligible for a drawing for several door prizes including webcams from Enhanced Telecommunications Corporation and a Chrome Notebook from Computer Solutions Innovations. The Chamber anticipates having other nice prizes as well.
The Inspire, Influence, Innovate 14th Annual Women in Business Conference is sponsored by Duke Energy, First Financial Bank, and Honda Manufacturing of Indiana.
Ticket prices for the event are $69 for all three sessions with an additional $5 for bonus time with Lindsay Boccardo in a separate breakout room following her initial presentation. Should attendees desire to only participate in one specific session, the price is $29.95 each session. By signing up for the Women in Business Experience (all three sessions), attendees will save $20 and will receive the Swag Box.
Tickets are available online at the Chamber's website, www.greensburgchamber.com or by emailing at execdirector@greensburgchamber.com, or dlowe@greensburgchamber.com.
Businesses wishing to participate as a virtual vendor or other sponsors may also contact the Chamber via the email or by calling 812-663-2832 or 812-593-4003.