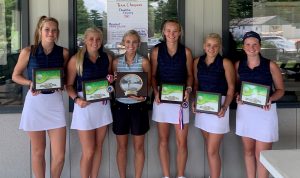 The Franklin County Lady Wildcats placed 1st at The Union County Girls Golf Invitational at Liberty on Tuesday, August 4th. The Batesville Lady Bulldogs finished third behind Franklin County at 350, Richmond with 364, followed by The Lady Bulldogs with a 376.
Batesville' Emma Weiler was the tournament medalist with a 77.
FCHS won the Union County Invitational by 14 strokes over 2nd place Richmond.
FCHS Scores: Gracie Graf – 79 (2nd Place Individual), Camryn Brewer – 83 (3rd Place Individual), Nicole Mears – 89, Crystal Calihan – 99, and Lillie Graf – 121.
Courtesy of Bulldogs Coach Tom Meyer and Wildcats AD Denny Dorrel.