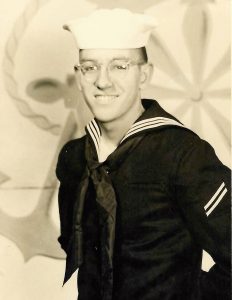 James "Jim" D. Vines, age 84, passed away peacefully surrounded by his family in his Harrison, Ohio home on Saturday, August 1, 2020. He was born on August 3, 1935 in Portsmouth, Ohio the son of James and Alma (Gordon) Vines.
A 1953 graduate of Harrison High School, Jim served the US Navy aboard the U.S.S. Saratoga, married Patricia Grubbs on June 14, 1963 in Columbus, Ohio. He was the head of the Dairy Department at the IGA in Harrison, Ross and Brookville for many years retiring at the age of 80. Jim loved animals, an avid sports fanatic, and was a member of St. John United Church of Christ, American Legion Post #199, Harrison VFW #7570 and Harrison Moose Lodge #2633.
Survived by his beloved wife Patty, his son Sam (Kim) Donohew and daughter Sandy (Sam) White. Grandfather of Josh (Misty) Vogt, Sammi White, Chris Donohew, Ashley Donohew and Ryan White. Great grandfather to Aubrey, Avery, Adrain, Remmington, Bryson, Noah and Peter.
Preceded in death by his parents James and Alma Vines and his son Russell "Duffy" Donohew.
A Celebration of Jim's Life will be held Saturday August 15, 2020 from 10:00 A.M. until time of service at 12:00 P.M. at Jackman Hensley Funeral Home 215 Broadway St. Harrison, Ohio 45030 with military honors provided by the United States Navy and the Harrison Honor Guard.
Memorials may be directed to Hospice of Cincinnati c/o the funeral home.