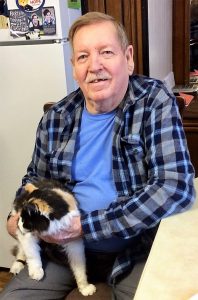 Cliff McBride, age 78 passed away in his home in Williamsburg, Ohio Thursday, July 30, 2020. He was born on April 9, 1942 in Morehead, Kentucky and was the son of Odus and Susan (Tary) McBride.
He worked as a machinist for Lunkenheimer and was a member of Union #105 of Cincinnati, Ohio
Cliff is survived by his children Faith (Steve) Clark, Ricky (Emma Lee) McBride, Pamela McBride, Markey McBride, Tricia (John) Jones and Michael (Melissa) McBride. Grandfather to Sabrina (Dennis) Fordyce, Ricky (Rachel) McBride, Ryan (Chaylyn) McBride, Amber (Brad) McBride, April (Corey) McBride, Nathan (Krystal) McBride, Benjamin McBride, Samantha (Cody) Nelson, Heather Nelson, Joshua McBride, Kristina McBride, Hannah Jones and Alyssa Jones. Great grandfather to Dennis Jr. and Logan Fordyce, Gracelyn and Ricky Asher McBride, Alexa McBride, Jamie and Nylah McBride, Patricia McBride and Theodore Alig. Brother to Dorothy Woods, Shirley Smith and Diane (Bobby) Cook. Also survived by his children's mother Alice Vernatter and daughter in law Dianne McBride.
Preceded in death by his parents Odus and Susan McBride, his wife Connie McBride, his children Katherine McBride, Rodney McBride and his 10 siblings including his twin brother Clifton McBride.
Visitation will be Tuesday, August 4, 2020 from 6:00 P.M. to 8:00 P.M. with Funeral Services at 11:00 A.M. on Wednesday August 5,2020 all at Jackman Hensley Funeral Home 215 Broadway Street Harrison, Ohio 45030. Burial will follow at New Harmony Cemetery.
Memorials may be directed to Heartland Hospice and/or American Cancer Society c/o the funeral home.