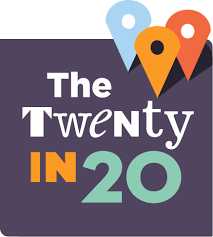 Statewide– From food to covered bridges, there are so many things that make Indiana unique. Visit Indiana's newest #The20IN20 list features the must-see, must-do treasures of the Hoosier State.
Take a drive to the Covered Bridge Capital of the World. Parke County is home to 31 of Indiana's 98 covered bridges. Visitors can see the bridges via a self-guided tour. Indiana's most famous covered bridge and waterfall is at Bridgeton Mill. The dam is nine feet tall and 220 feet long. The bridge itself is 261 feet long.
Among the most iconic foods in Indiana are the pork tenderloin and sugar cream pie. Indiana Foodways Alliance, which features 21 food trails, has a trail dedicated to these foods.
Did you know that the TV show, The Joy of Painting featuring artist Bob Ross, was filmed by PBS station WIPB in Muncie, Indiana? The studio was set up in the L.L.Ball Home on the property of Minnetrista Cultural Center. The Bob Ross Experience will open in October of 2020, in the same location that it was filmed. There you will see many of his works, the studio, and be able to try your hand at painting.
To find out more about The 20 IN 20, click here.