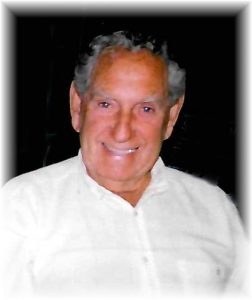 John D. Turner, age 91 of Batesville, Indiana passed away on Saturday, August 1, 2020 at Margaret Mary Hospital.  The son of Jim & Mirtie (nee: Wallen) Turner was born on August 22, 1928 in Wayland, Kentucky.
John worked for many years for New Point Stone Company as a loader, until he retired.  He was a member of the Bible Baptist Church in Metamora. John enjoyed being outdoors and going camping. He had a great love for horses and liked to go riding out on the trails when he could.
He will be dearly missed by his wife, Lois Turner; step daughter, Joyce Navara; step son Danny Cope; grandchildren, Jim Ross, Jeff Turner and Rebekah Pinson; great granddaughters, Kylie Ross and Haylie Ross and great-great grandson Wyatt Haley; along with several step grandchildren and step great grandchildren.
In addition to his parents, he was preceded in death by his son, David Turner and step-son, David Cope, along with his three brothers and two sisters.
Visitation will be Wednesday, August 5, 2020 from 11am – 1pm with funeral services at 1:00pm all at Meyers Funeral Home in Batesville.  Rev. Ron McCulloch officiating.  Burial to follow at Rossburg Cemetery in New Point, IN.
Memorials may be given to the Bible Baptist Church c/o the funeral home.
Continuing with COVID-19 precautions and state mandates, all attending will be asked to follow proper social distancing protocol and masks are required. If you are not feeling well, or if you have compromised immune system, you are encouraged to stay home.
You are welcome to leave a message at www.meyersfuneralhomes.com on John's obituary page for the family in the online guestbook.