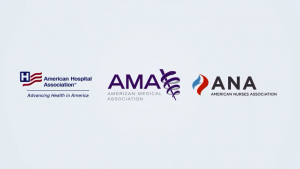 Together, the American Hospital Association (AHA), the American Medical Association (AMA), and American Nurses Association (ANA) released a public service announcement urging the American public to take three simple steps to help stop the spread of COVID-19: wear a mask, practice physical distancing and wash hands frequently. The PSA is the first element of a comprehensive campaign to increase public acceptance of these essential actions and builds on the groups' open letter to the public released last month.
Physicians, nurses and hospital and health systems leaders have been joined by researchers and public health experts in this important call to action. The science and evidence is clear, following these guidelines is essential to helping to stop the spread of the virus.
Following months of practicing physical distancing and staying home, both COVID-19 infections and deaths began to decline. As states began reopening, people started to abandon the essential steps needed to stop the spread. This led to a significant increase of new cases, worsening the shortage of personal protective equipment (PPE), tests and testing supplies and further stretching hospitals' intensive care unit (ICU) capacity in certain states. It also exacerbated the mental and physical toll on health care teams and clinicians providing patient care. In response, the AHA, AMA and ANA have launched the #WearAMask campaign as a way to continue urging the American public to wear a face mask, maintain physical distancing and wash hands. By taking these three simple steps, everyone can contribute to stopping the spread of the virus and keeping themselves, their families and their communities safe.