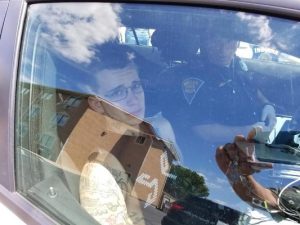 Columbus, IN —On Wednesday afternoon, Damion Patton, 22, of North Vernon, was taken into custody at a Columbus Hotel without incident. On July 27, Patton was involved in a foot pursuit in Jennings County where he ran from a vehicle and led deputies on a foot pursuit. At a later time, an area-wide dispatch was given out of what possible vehicle Patton could be in, the vehicle was eventually located at a Columbus, Indiana hotel.
Detectives with the Jennings County Sheriff's Office, the Indiana State Police All Crimes Policing Unit, Columbus Police, and Bartholomew County Deputies responded to the hotel. Patton was taken into custody as he exited his hotel room and entered the suspect vehicle.
Patton was taken to the Jackson County Jail where he is being held on a Jackson County Warrant and a Jennings County Warrant, as well as possibly facing additional charges for the recent pursuits.