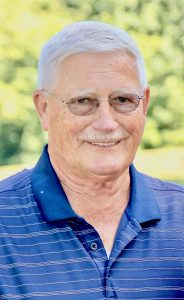 John Erfman, of St. Peter's, IN, passed away Tuesday, July 28, 2020 at the age of 76. A graduate of Brookville High School, John loved playing sports, especially basketball and track. John was known to be routine driven, opinionated, and a little ornery at times. He had no problem telling you how it was and expected no less from his family who liked to give it right back. John liked to keep up on the small town current events by following a simple daily routine. First thing in the morning he would stop by Alig's
Shell and make sure everyone was off to a good morning, then in the evening he would stop by The St. Leon Tavern to make sure everyone had put in a hard day's work. John was a member of Lawrenceburg Knights of Columbus, enjoyed playing golf and cheered for the Cincinnati Reds, Cincinnati Bengals, and IU. John was so proud of his kids, grandkids and great grandkids. He doted on the grandkids and attended as many of their sporting events that he could. John will be greatly missed by his wife of nearly 12 years Marilyn; his children Susan (John) Wartenberg
of Indianapolis, Krista (Scottie) Ricketts of Lawrenceburg, Stephen (Jeanie) Erfman of St. Leon, Eric (Angela) Erfman of Indianapolis, Lindsey (Keith) Huster of Orem, Utah, and Jill (Aaron) Sena of Guilford; 16 grandchildren and 5 great grandchildren; siblings Jerry (Carolyn) Erfman, and Juliann (Leo) Wilhelm. He is preceded in death by his parents Ethel and Alfred Erfman, and brother James Erfman.
Visitation for John will be on Saturday, August 1, 2020 from 9:00 AM – 12:00 PM at Andres-Wuestefeld
Funeral Home. Mass of Christian Burial will begin at 1:00 PM at St. Peter's Catholic Church; burial will
immediately follow at St. Peter's Cemetery. Memorial donations in John's honor can be made to St.
Peter's Church by donating at the funeral home or mailing it to the parish office at 145 St. Michael Blvd,
Brookville, IN 47012. To offer condolences online, please visit www.andres-wuestefeldfh.com.
In our efforts to keep everyone safe & healthy, and in order to comply with Indiana state mandates
regarding COVID-19, everyone in attendance must wear face coverings over the nose and mouth. If you
have been feeling sick, we ask that you please stay home.