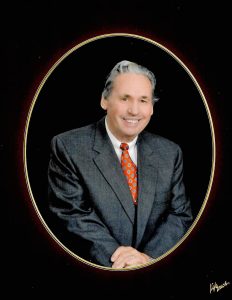 Robert "Bob" George Woods, age 84 of Harrison, Ohio passed away Sunday, July 26, 2020 surrounded by his family in his home. Born December 30,1935 in Miamitown, Ohio the son of Robert and Mary (Hanaway) Woods.
Robert, a 1953 graduate of Harrison High School was inducted into the Harrison High School Football Hall of Fame. He graduated from the University of Dayton, served his country in the Airforce and married Nancy Shaver in 1957 at Miamitown Christian Church. Bob was an Electrical Engineer and retired after 30 years from City of Cincinnati Public Works. He belonged to the Woodcarvers of Cincinnati, and was a member of the Crosby Township Senior Center.
Robert is survived by his beloved wife Nancy Woods, his son Robert (Hannah) Woods. Grandfather to Melia Beck, Ocean Woods, Eden and Logan Woods. Brother of Dan (Nancy) Woods and Becky Smith. Bob was an amazing uncle to many nieces and nephews. Brother in law of Cynthia (Howard) Kuhr, Tim (Joanne) Shaver and Tom (Mary Ann) Shaver.
Preceded in death by his parents Robert and Mary Woods.
Visitation will be held on Sunday, August 2, 2020 from 2:00 P.M. until time of funeral services at 4:00 P.M. with Rev. Rebecca Woods officiating all at Jackman Hensley Funeral Home 215 Broadway Street Harrison, Ohio 45030.
Memorials may be directed to the Harrison Fire Department/EMS or the Harrison Athletic Boosters c/o the funeral home.