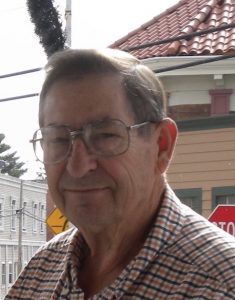 Philip Alvin Gehl from the Napoleon area, passed away Saturday, July 11, 2020 at the age of 85 at Morristown Manor in Morristown, IN.
Phil was born in Cincinnati, Ohio on April 21, 1935 to the late, Carl and Alma Schershligt Gehl. On July 7, 1962, he was united in marriage to Ruth Ann Federle and they were blessed with five children. They celebrated their 55th wedding anniversary before her passing on October 27, 2017.
Philip was a man with very strong work ethics and values. This would influence him to proudly serve his country in the U.S. Navy. After completing his military service, Ruth and he would return home where they purchased an 80-acre farm outside of Napoleon and this is where they would raise their family.
Along with the farm, Phil also worked as a union electrician under the International Brotherhood of Electrical Workers. It was important to him to pass along his strong work ethics and values to his children and grandchildren.
Aside from work, Phil was a dedicated Boy Scout leader of the Napoleon Troop 640 for 14 years and through his leadership, he had a positive impact on the lives of many people. In addition, he was a member of St. Maurice Catholic Church of Napoleon. He also enjoyed collecting antique machinery.
Philip is survived by three sons: Anthony (Ann) of Knoxville, TN; Jim (Rachel) of Batesville, IN; Ron (Kathy) of St. George, KS and daughter, Mary (Courtney) Franke of Howe, IN. He also is survived by his three sisters: Dolores Wagner of Napoleon; Marilyn (Carl) Buening of Greensburg, IN; and Dorothy Stier of Napoleon and one brother; Paul (Arlene) Gehl of Napoleon. Phil is also survived by his 11 grandchildren and four step-grandchildren. He was preceded in death by his wife, Ruth; son, Daniel Gehl, brother Carl Gehl and daughter-in-law Lisa (Riehle) Gehl.
Services will be held all in one-day, Tuesday, July 14, 2020 at the St. Maurice Catholic Church of Napoleon, IN. Visitation will be from 10:00 a.m. until 12:00 (noon), at which time the funeral will begin. Burial will be at the church cemetery in Napoleon, IN. Due to COVID 19, people are encouraged to wear their mask for everyone's protection.
Arrangements entrusted to Neal's Funeral Home of Osgood, IN. Memorials may be made to the church, in care of the funeral home.
www.nealsfuneralhome.net