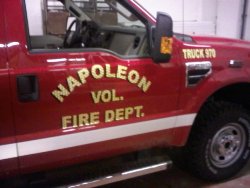 Napoleon, IN —The Napoleon Volunteer Fire Department Drive-thru Firemen's Picnic event will be held next Saturday, July 18. Due to the current CDC and Health Department guidelines for managing COVID-19 exposure, the Napoleon Volunteer Fire Department has opted to hold a "drive-thru" food line only event this year on the evening of Saturday, July 18, along with the Jeep/ATV poker run earlier in the same day.
The event will take place at the new Napoleon Firehouse located on Millhousen Road just west of Napoleon. Jeep/ATV poker run registration begins at 10 am with the ride beginning at 11 am.
Foodservice will begin at 4 pm and go throughout the evening. They will be serving fried chicken dinners with 2 side dishes. You can also purchase whole chickens for $20 and a half chicken for $15. They will also have their famous Mock Turtle Soup available for $10 per quart or $40 per gallon.
Delivery of food items will be provided for those 65 and older who live within our area. Call 812-593-4012 or on Facebook messenger for delivery orders. Cash, check, and Venmo payments will be accepted.