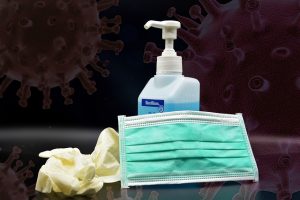 Statewide—The Indiana PPE Directory launched today, replacing the Indiana Small Business PPE Marketplace and providing a long-term solution to ensure reliable and credible access to PPE, particularly for small businesses and nonprofits.
The Indiana PPE Directory, which is available online by clicking here, features a listing of Hoosier companies that manufacture and/or distribute PPE items, such as face masks, face shields, gloves, eye protection, hand sanitizer, and disinfectant. From the directory, users may view each company's available products and place orders for PPE directly with each provider. Shipping is free for orders placed by Indiana businesses and nonprofits.
Currently, the directory features an initial listing of 12 Indiana companies including Royer Corporation in Jefferson County.
All companies featured in the directory have been vetted by the Indiana Economic Development Corporation (IEDC) and must meet the following requirements:
• Must be headquartered or incorporated in Indiana,
• Must be able to fulfill and ship orders within two business days of receipt,
• Offer free shipping to Indiana businesses and nonprofits,
• Have the ability to offer expedited shipping for a cost,
• Must be able to process online orders and credit card payments, and
• Must prioritize orders placed through the directory.
Hoosier businesses interested in being featured on the Indiana PPE Directory that meet the eligibility requirements should contact PPEDirectory@iedc.in.gov.