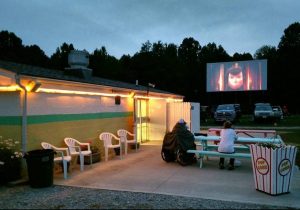 Versailles, IN —If you are a Blake Shelton fan, he is coming to the drive-in near you on July 25.
The country music superstar announced yesterday on Twitter that he will be headlining a concert at 300 drive-in theaters across America, including theaters right here Southeastern Indiana.
The exclusive Encore Concert Series drive-in show will feature special guests including Gwen Stefani and Trace Adkins. The concert was filmed exclusively for drive-in theaters across the country so that you can enjoy music from the safety of your car. Shelton is following in Garth Brooks' footsteps, as Brooks held a concert at drive-in theaters on June 27.
Tickets for Shelton's concert go on sale at noon on Tuesday, July 14 through Ticketmaster. Tickets will be sold $114.99 per vehicle of up to six people and will be at the Bel-Air in Versailles. Click here to purchase tickets.