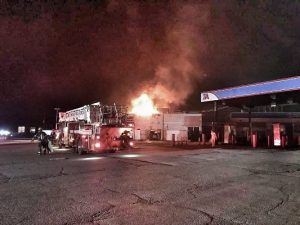 Seymour, IN —According to the Seymour Police Department, an early morning fire on Monday appears to have started in an electrical utility room near the kitchen, that consumed a portion of the T/A Travel Center off of I-65 in Seymour.
Firefighters from the Seymour Fire Department were able to contain the blaze, limiting damage to the west side of the building.
No injuries were reported and damage estimates are not yet available. The investigation into the fire is ongoing.