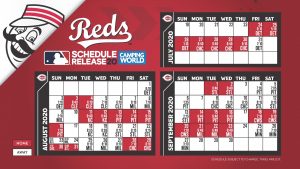 CINCINNATI – The Cincinnati Reds and Major League Baseball announced the updated 2020 Schedule today. Click here to view it, and click here for the printable version.
Cincinnati Reds President of Baseball Operations Dick Williams today also announced that the Cincinnati Reds and Detroit Tigers will play a pair of exhibition games before their July 24 season opener.
The teams will finish Summer Camp with a 6:40 p.m. game at Great American Ball Park on July 21 and a 6:10 start on July 22, followed by an off day on July 23.
The Reds and Tigers begin the 2020 championship season at 6:10 p.m. on July 24 at Great American Ball Park.